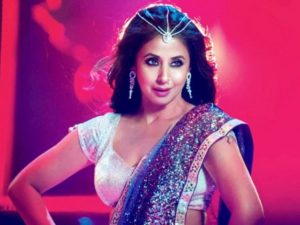 Veteran actor Urmila Matondkar recently made a comeback on the big screen with Irrfan Khan starer Blackmail's new song Bewafa Beauty, reported Pinkvilla.
 The Abhinay Deo directorial witnesses the comeback of Urmila after a decade. She was last seen in 2008's remake of 1980 film Karz, titled Karzzzz alongsde Himesh Reshammiya.
Of the film, producer Bhushan Kumar said, "Although Irrfan's character in Blackmail is in a situation no man would want to be in, the mood of the film is tongue-in-cheek. We wanted a song that would be naughty and humorous without being vulgar.
Deo revealed that he did not want any old item number in the film, rather a song that adds meaning. "Initially, there was no song in the film but when we were discussing the film creatively, Bhushan felt there was definitely the need for such a song."
He added, "By its name, Bewafa Beauty portrays that it's about a beauty who is unfaithful, which is the premise of the film — a man whose wife is cheating on him."
The director also shared that he aimed to revive the memory of Urmila. He explained, "Firstly, Urmila is a massive star, she is not an item girl. We were not looking for an item girl for this song. We wanted a performer – someone who has tremendous star value in the audience's mind."
He continued, "We also wanted someone who has not come in front of the silver screen for a while now. From all the names we came up with, I personally believe that the biggest and best name is Urmila. She fit the bill perfectly, is gorgeous, and an incredible dancer. Therefore, she was a perfect match for the song and film."
Blackmail, which stars Irrfan, Kirti Kulhari, Divya Dutta and Arunoday Singh, is slated for release on April 6, 2018.