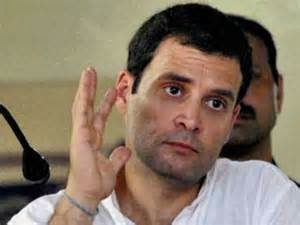 With 2 Seats, BJP Usurped Power In Meghalaya Through Proxy: Rahul Gandhi
A day after the BJP managed to deny the Congress a shot at power in Meghalaya, Rahul Gandhi on Monday accused the saffron party of "usurping" power through proxy in the northeastern state and using "big money" to create an "opportunistic alliance" in the state.
The Congress president also alleged that
the BJP is "obsessed" with "grabbing" power and has shown "utter disregard" to the mandate of people in the state.
"With just 2 seats, the BJP has usurped power in Meghalaya, through a proxy. Like in Manipur and Goa, showing utter disregard for the mandate of the people. Obsessed instead with grabbing power, using big money to create an opportunistic alliance," Gandhi said on Twitter while using the hashtag "DemocracyDemonetised" with his tweet to target the BJP.
In an earlier tweet, Rahul Gandhi said the Congress party respects the mandate of the people of Tripura, Nagaland and Meghalaya and that they are committed to strengthening the party across the North East and to winning back the trust of the people
 With just 2 seats, the BJP has usurped power in Meghalaya, through a proxy.


Like in Manipur & Goa, showing utter disregard for the mandate of the people. Obsessed instead with grabbing power, using big money to create an opportunistic alliance.

#

DemocracyDemonetised