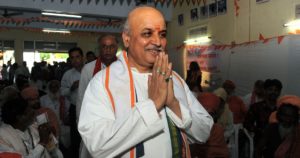 'People are trying to silence my views on Ram temple, cow slaughter law,' says Praveen Togadia
Vishwa Hindu Parishad leader Praveen Togadia, who briefly went missing yesterday, alleged today that unspecified people are attempting to muzzle him and not let him speak on issues like the Ram temple, welfare schemes for farmers and the law on cow slaughter.
"I am being targeted for a decades-old case, there is an attempt to suppress my voice. Rajasthan Police team came to arrest me. Someone told me plan was being made to kill me in an encounter," alleged a tearful Togadia in a press conference.The VHP leader further said he "will not be silenced and will continue to work for Hindus" and their welfare. He also said all Hindu organisations should unite.
Togadia, s 'international working president' of the VHP, went missing yesterday morning and was found unconscious in Ahmedabad's Shahibaug area by the evening. Ahmedabad crime branch sources said Togadia, 62, was then admitted to hospital as he was suffering from low blood sugar.
"I have never run from the law and I don't fear anybody. So, I am not running away. I am waiting until the doctors give me a clean chit of health and permit me to travel out of town. Once they do that, I will present myself before the court in Jaipur," he said.
 He also urged VHP workers to keep calm. However, on Monday evening, after news of Togadia going missing made the rounds, the activists created a ruckus in Ahmedabad, alleging that the police, in connivance with their Rajasthan counterparts, had taken Togadia into custody in connection with a 10-year-old murder case. Angry VHP workers on Monday took to streets.