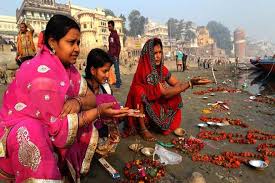 Makar Sankranti, the Hindu festival that is observed in January every year  is celebrated by Hindus all over the world and  in different parts of India in different ways.
Makar Sankranti denotes the entry of the sun into the zodiac sign of Makara (Capricorn) as it travels on its celestial path. This year it will be celebrated on January 14.
The day marks the onset of summer and the six months' auspicious period for Hindus known as Uttaarayan. The connection with Uttaraayan dates back to the mythological era of The Mahabharata when Bhishma Pitamah lay down on a bed of arrows and waited for the sun to be in Uttaraayan to breath his last.
Considered as one of the most ancient Hindu festivals, it is observed according to the solar cycles. Thus, it almost always falls on the same Gregorian date every year. The festivities associated with the day is known by different names in different parts of the country — Lohri by north Indian Hindus and Sikhs, Sukarat in central India, Bhogali Bihu by Assamese Hindus, and Pongal by Tamil and other south Indian Hindus.
The day is dedicated to the Hindu god surya (sun) and is observed to convey gratitude to nature for its resources. The significance of the sun god can be traced back to the Vedic texts, especially the Gayatri Mantra — a sacred hymn of the Hindus.
There are various spiritual practices that are observed during Makar Sankranti. It is common for people to take a holy dip in rivers, especially Ganga, Yamuna, Godavari and Krishna. It is generally believed that such a practice would absolve them of their past sins.
Today, nearly 20 lakh devotees from across India as well as from neighbouring Nepal, Bhutan and Bangladesh today took a holy dip at the confluence of the River Ganga and the Bay of Bengal on the occasion of Makar Sankranti. 
With prayers on their lips, the devotees jostled for space since early hours to take a dip in the holy water at Ganga Sagar, also known as 'Sagardwip'. 
The sky of Jipur was today covred with colourful kites as people celebrated the festival of Makar Sankranti.
Devotees took holy dips in Galta tirth in Jaipur and Pushkar in Ajmer and offered prayers.
They offered prayers to the Sun and took holy dip on the auspicious occasion of Makar Sankranti, which marks the end of the winter solstice month and the beginning of longer days.
Amitabh Bachchan, Shah Rukh Khan, Akshay Kumar, Rishi Kapoor and others have posted their wishes for fans to mark the festivals. "Happy Makar Sankranti to all. Happiness joy and peace," tweeted Big B.