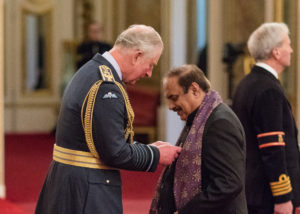 (London)… It was a special day for Hindi Literature when the British Hindi writer of Indian Origin Mr. Tejinder Sharma was honoured with "The Member of the Order of the British Empire."
Tejinder received his award for "Contribution to Hindi Literature and Community Cohesion in the city of London at the hands of Prince Charles in a grand investiture held at the   Buckingham Palace.
Tejinder Sharma's name was referred to the Queen by the British Prime Minister Teresa May. He is the first Hindi writer to receive this honour for his contribution to the Hindi Literature. In various categories personalities like Om Puri, Salman Rushdie, V.S. Naipaul, Vikram Seth and Anish Kapoor have received this honour. Taking a cue from these awards, in India Padam Awards are given every year.
British MP of the Ruling Conservative Party Mr. Bab Blackman commented that Tejinder Sharma through his writings has been trying to create Community Cohesion for over two decades. The Opposition MP Gareth Thomas was all praise for Tejinder Sharma the Editor of Purvai the only Hindi magazine published from London. The role of the Hindi editor in Community cohesion was specially underlined.
Another Labour Party Member Virender Sharma confirmed that he has been involved personally in the literary activities of Tejinder Sharma. "While other Hindi writers were deeply involved with Nostalgia in their writings, Tejinder Sharma's focus in his writings has been the life in Britain.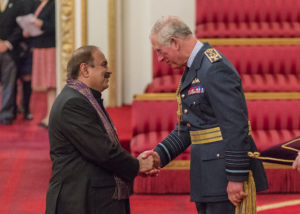 Tejinder's daughter Aarya Sharma; his long-standing friend Mr. Yadav Sharma of Air India and the close family friend & Labour Party Councillor Mrs. Zakia Zubairi attended the event. Aarya, a known TV artist in Mumbai, had specially flown to be on her father's side on his special day.
Mrs. Zubairi expressed her gratitude to the Queen for recognizing the contribution of Tejinder Sharma for this great honour. It has enhanced the status of Hindi Language and Literature. British MPs across the party-line supported the candidature for this award is a matter of great pride and satisfaction. This award has established the Literary, Cultural and Community Cohesion movement of our organization Katha UK in a big way.
Tejinder Sharma credited his late father Shri Nand Gopal Mohla and wife Indu for his literary writing. He termed this as a colossal moment for Hindi literature and language when the British Monarch herself has honoured a Hindi writer with such honour. He dedicated his award to the entire Hindi literary world and remembered his teachers from school and college days.
Born on 21 October 1952 in jagraon (Punjab) to a simple family, Tejinder Sharma has authored around two dozen books. He has been the recipient of various awards in India including The Kendriya Hindi Sansthan Agra's Dr. Moturi Satyanarayan Samman (2011), UP Hindi Sansthan's Pravasi Bhartiya Sahitya Bhushan Samman (2013), Haryana Sahitya Acadamy Samman (2012), Maharashtra Sahitya Academy Samman (1995), Indian High Commission, London's Harivansh Rai Bachhan Samman (2008).
Tejinder Sharma worked over two decades with Air India as a Flight Purser. He came to settle in the United Kingdom in 1998. He had short stints with All India Radio, Doordarshan and BBC World Service Radio in London. He acted in Annu Kapoor's film Abhay with Nana Patekar. His organization Katha UK gives an annual Indu Sharma Katha Samman to a writer from Hindi in the House of Commons, London. He, at present, is working the London Overground Railways and is busy completing his new novel.