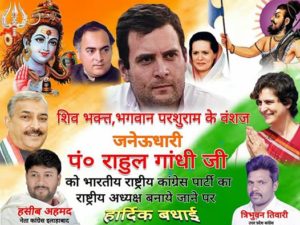 A youth Congress leader, Haseeb Ahmad,  has put up a poster on his Facebook and Twitter accounts congratulating, Rahul Gandhi – a "janeudhari" – for his elevation as president of the Indian National Congress.
Claiming that Rahul Gandhi is a Lord Shiva devotee as well as descendant of Lord Parashuram, Haseeb Ahmad said, "Those who follow sanatan dharam and also worship Lord Parashuram should know, Rahul Gandhi, being a Brahmin, has a right to wear janeu (scared thread)." He said that no one has the right to raise questions over their young leader wearing janeu.
The poster, apart from having photographs of Lord Shiva and Lord Parashuram, also carries a collage of photographs, including former prime minister Rajiv Gandhi, Sonia Gandhi, Priyanka Vadra, Congress Rajya Sabha MP Pramood Tiwari, and local Congress leaders Haseeb Ahmad and Tribhuwan Tiwari.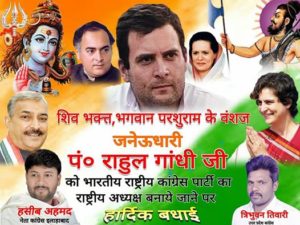 The poster here reads "Shiv bhakt, Bhagwan Parashuram ke vansaj, Janeudhari Pt. Rahul Gandhi Ji ko Bharatiya Rashtriya Congress party ka rashtriya adhyaksha banaye jane par hardik badhai (Congratulations to Pt. Rahul Gandhi, the Lord Shiva devotee, descendant of Lord Parashuram and janeudhari for being appointed the president of Indian National Congress).