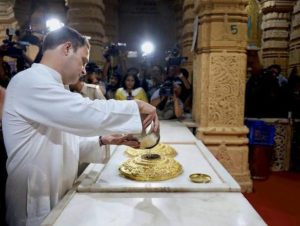 Rahul Gandhi registered as a "non-Hindu" visitor at the famous Somnath temple in Gujarat on Wednesday and this immediately ignited a storm.
Congress alleges a BJP conspiracy ahead of polls in the state and accused the ruling BJP of circulating a "fake entry" to discredit their boss-designate.
"We have no qualms in saying that Rahul Gandhi is a Hindu. Not only is Rahul Gandhiji a Hindu, he is a 'janeu dhari' (Brahmin) Hindu. BJP should not bring down the political discourse to this level," said  angry Congress spokesperson Randeep Surjewala .
The Congress vice president visited the renowned temple along with Ahmed Patel and others. A media coordinator, Manoj Tyagi, apparently signed in for the whole group in a register meant for non-Hindus, who need special permission to visit the temple. The Congress alleges that the name "Rahul Gandhiji" was added by the BJP.

"Everyone knows Rahul Gandhi is a shiv bhakt (devotee). The BJP is doing what it does best, diverting from real issues," said Congress leader Deependra Hooda, pointing out that the temple's trust includes BJP leaders like Prime Minister Narendra Modi, party chief Amit Shah and former Chief Minister Keshubhai Patel.
Rahul Gandhi has visited several temples over the last few weeks as part of his "Gujarat Navsarjan Yatra". "I am a devotee of Lord Shiva. Let them say whatever they want to say. My truth is with me". says Rahul Gandhi.