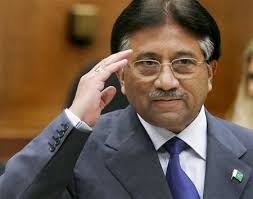 Former Pakistani military ruler Pervez Musharraf has said he likes Jamaat-ud-Dawah chief Hafiz Saeed and is the "biggest supporter" of the Lashkar-e-Taiba as it involved in targeting the Indian Army in Kashmir.
The declaration of support for LeT, Jamaatud Dawa and its chief Hafiz Saeed, who was recently released from house arrest, was made during a discussion pertaining to Musharraf's recently announced 23-party 'grand alliance' on ARY News programme 11th Hour.
Musharraf, who currently lives in self-exile in Dubai since leaving Pakistan after being charged with treason, made the remarks.
"I'm the biggest supporter of Lashkar-e-Taiba and I know the LeT and JuD people like me," he said, while responding to a question on how the man who had once pursued the policy of "enlightened moderation" was joining hands with hardline Islamic groups.
Asked if he likes Saeed, the founder of the LeT, Musharraf replied: "Yes, I have met him, even recently…I have always been in favour of action in Kashmir, and I've always been in their favour, that in Kashmir we must pressure the Indian Army and this (LeT) is the biggest force."
Musharraf also said the LeT "was not involved" in the 2008 Mumbai attacks.
The attacks on India's financial hub was carried out by a 10-member LeT team, one of whom – Ajmal Kasab – was captured alive. Pakistan officially acknowledged the conspiracy behind the attacks was hatched on its soil in 2009 and arrested seven people for the attacks, including LeT operations commander Zakiur Rehman Lakhvi.
 Speaking in a mix of Urdu and English, Musharraf explained the switch from the days of "enlightened moderation" to his All Pakistan Muslim League forging alliances with Islamist groups by saying: "It is the requirement of the day, you must do everything in light of the reality of Pakistan."He added, "I am liberal and moderate, these are my thoughts but that doesn't mean I'm against all religious people."
Musharraf's regime had banned the LeT and Jaish-e-Mohammed in January 2002, weeks after a terror attack on the Indian Parliament. The Sunni Tehrik, a group with which Musharraf's party has formed an alliance, was placed on the interior ministry's "watch list".
The former president, who was forced to step down in 2008, claimed India and the US got the LeT "declared terrorists". He added, "Yes, they are involved in Kashmir and in Kashmir, it is between we and India."
Asked why he had banned the LeT in 2002, Musharraf replied: "The situation was different at that time. My vision was that we were moving towards peace, they (India) were moving toward my four-point agenda (for resolving the Kashmir issue), let us reduce mujahideen and increase political…"
Musharraf described a recent White House statement calling on Pakistan to arrest Saeed and prosecute him as "offensive".
"This is very offensive language and an insult to Pakistan's sovereignty. I would never accept this language and I would have said, 'Please don't dictate to us. We are in charge here, we decide on who is the LeT head, whether he has to be tried, whether he has to be punished. It is our decision.'"
The US last week threatened Pakistan with "repercussions for bilateral relations" if Saeed, who was recently released from nearly 10 months of house arrest, was not immediately re-arrested and charged.