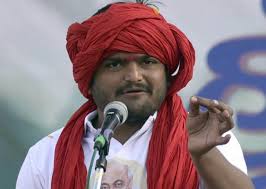 How denial of scholarship to sister turned Hardik Patel into a formidable Patidar leader
Prabhash K Dutta
Hardik Patel graduated from an Ahmedabad college with less than 50 per cent marks in 2013. Two years later, Hardik Patel was telling huge crowds across Gujarat that Patidars deserved reservation for their uplift.
Patidar Anamat Andolan Samiti (PAAS) leader Hardik Patel has emerged as the biggest challenge to the BJP government in Gujarat even though he maintains that he will not contest election.
The BJP has been trying to pacify him through back channels or weaken his organisation by winning over his close aides. Some of them have even joined the party ahead of Gujarat election. But, the 'cash-for-membership' allegation by Narendra Patel has embarrassed the BJP.
The Congress, on the other, has publicly offered Hardik Patel a ticket and urged him to join the party in order to strengthen its electoral fight against the ruling BJP. Though, Patels form only 12 per cent of Gujarat's population, they are a dominant player in the state politics. This is why the BJP has been wary of Hardik Patel's popularity.
WHERE DID HARDIK PATEL COME FROM?
Hardik Patel's popularity seems spontaneous. Till the first half of 2015, Hardik Patel was an almost unheard character. He suddenly appeared on the national television screens with huge rallies across Gujarat fiercely demanding reservation for Patel-Patidars.
Hardik Patel spent his childhood in rural Ahmedabad. Before turning to caste-based activism, Hardik Patel helped his father run a small submersible water pump business at Viramgam in Ahmedabad. Reports suggest that he graduated from Ahmedabad's Sahajanand College with grace marks securing less than 50 per cent numbers.
In 2010, Hardik Patel, then 17, joined the Sardar Patel Group (SPG), an outfit for Patidar youths.  Hardik Patel benefitted from the interaction with a group of 50,000 members. He impressed the leaders of the SPG with his oratorical skills. Within a month, Hardik Patel was the president of the Sardar Patel Group's Viramgam branch.
At the SPG, Hardik Patel learnt that the economic slowdown had affected the Patidar youths adversely. Their agriculture showed decline. The Patidar businessmen faced failures in their traditional businesses due to fierce competition from online outlets.
The diamond industry was in distress and more than small businesses owned by Patidars were being shut down. The Patidars did not get jobs easily due to tough competition and reservation to OBCs and other classes. These were startling discoveries for a young Hardik Patel.
He was getting more agitated at the Sardar Patel Group leading to rift with the senior leaders. Finally, in 2015, Hardik Patel was thrown out of the SPG following a conflict with its leader Lalji Patel.
EMERGENCE OF HARDIK PATEL
The ouster from the SPG was timed with another significant event of Hardik Patel's life. In 2015, two years after Hardik Patel graduated, his sister Monica joined the Bachelor of Arts Degree in English.
The same year, Monica failed to secure a government scholarship. This wasn't a welcome news for Hardik Patel. He soon came to know that a friend of Monica, who secured less marks in the qualifying examination, got the same scholarship through OBC quota.
This was the turning point in Hardik Patel's life as an activist. He had already been ousted by the Sardar Patel Group. He now launched Patidar Anamat Andolan Samiti (PASS) in July 2015. The objective of the PAAS was to secure OBC quota for Patidars while remaining apolitical.
Hardik Patel took to social media for promotion and attracting Patidar youths from all across Gujarat. He organised his first public rally at Visnagar in Mehsana district – the home district of Prime Minister Narendra Modi.
Hardik Patel claimed in his rallies that "a Patidar student with 90 per cent marks does not get admission in an MBBS course while SC, ST or OBC students get it with 45 per cent marks."
Soon, he was addressing rallies across the state. His Surat rally was reportedly attended by 4.5 lakh people. Hardik Patel's massive rallies became too frequent and uncomfortable for the Gujarat government. His rallies at Gandhinagar, Rajkot and Vadodara brought him in the national headlines.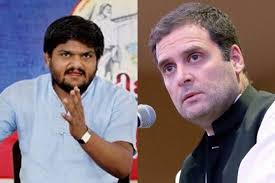 Hardik Patel also engaged with Kurmi and Gujjar communities from Uttar Pradesh, Madhya Pradesh and Rajasthan in an attempt to form a bigger group of Patidar community. He also formed the Patel Navnirman Sena to launch a national level stir.
SEDITION CASE AGAINST HARDIK PATEL
With rising popularity, Hardik Patel also courted controversies and had a run-in with the law. In October, 2015, Hardik Patel was booked for insulting the national flag in Rajkot.
Soon, a case of sedition was slapped against him for his alleged "killing cops" remark at a rally at Mehsana. The case was filed at Surat. He was arrested by Gujarat police on sedition charge.
Hardik Patel was granted bail in July 2016 on the condition that he would stay out of Gujarat for six months and not return to Mehsana for nine months. During this period Hardik Patel stayed at Udaipur in Rajasthan.
Now, he has come back and again galvanising Patidar community attacking the BJP government. Hardik Patel has been campaigning against the BJP government alleging that it has failed the Patidar community. Hardik Patel is still drawing huge crowds in Gujarat keeping the BJP on its toes on the eve of Assembly election.
However, there is an interesting link between the BJP and Hardik Patel. Like the BJP, Hardik Patel proclaims himself to be an avid follower of former Union Home Minister Sardar Vallabhbhai Patel and Lord Rama. But, the Gujarat election could prove to be a different ball-game altogether.
Source:India Today