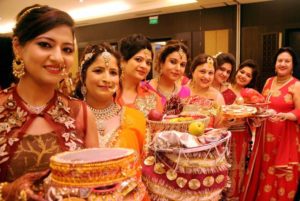 Karwa Chauth, a festival that symbolizes love and sacrifices of married women, will be celebrated on Sunday 8th October  with great fervour. As per tradition, women fast for safety and long lives of their husbands until they see the moon.
Karwa Chauth is celebrated by married Hindu woman in Northern India and women from Northern Indian states all over the world, Karwa Chauth 2017  will be celebrated on 8th October 2017. The festival falls during the Krishna Paksha Chaturthi in the month of Kartik as per the Hindu calendar. On this day, married women observe fast from sunrise to moon rise for the well-being of their husbands.
Married women who observe Karva Chauth break the fast only after offering prayers to the moon. Women offer water to the moon as a part of their prayer by holding an Atta Chani in another hand. Since the festival is celebrated primarily by women, men are entirely excluded from the festival's observances until moon rise, though they are expected to demonstrate attention and concern for their fasting wives
There is a famous story associated with the Karva Chauth festival but the one that is more generally narrated during the Pooja is abut a queen named Veervati.
Veervati was the only sister among her seven brothers and hence she was the most loved one in the family. After her marriage, her first Karva Chauth was celebrated at her parents' home. Although she observed a strict fast from sunrise, the young woman desperately waited for the moon to come out. Unable to see her thirsty and hunger stricken, her brothers created a mirror in a peepal tree that made it look like the moon had risen. Veervati mistook this as moonrise and broke the fast. However, the moment she took the first morsel in her mouth, she received a message from her servants that her husband was dead. Heartbroken, Veervati cried all night until a goddess appeared in front of her and asked her to observe the Karwa Chauth fast again with dedication and devotion to see her husband alive. Veervati followed the advice and observed the fast again. Seeing her devotion Yama, the God of death, was forced to bring her husband back to life.