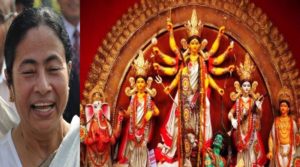 The Calcutta high court on Thursday,21 September 2017, revoked the ban order on idol immersion imposed by the Mamata Banerjee government during Muharram and said the state cannot pass orders arbitrarily.
In a stern rebuke to the Bengal government, the Calcutta high court told the Bengal government not to curtail citizens' rights senselessly.
"You are exercising extreme power without any basis… Just because you are the state, can you pass arbitrary order?" the court said.
Hearing three PILs challenging the restrictions on immersion of idols at the end of the five-day Durga Puja festival, a bench headed by acting chief justice Rakesh Tiwary had said the government could not act on mere assumption that the law-and-order situation might deteriorate owing to Vijaya Dashami and Muharram falling one after the other.
"If you get a dream, that something will go wrong, you cannot impose restrictions," the bench, also comprising Justice Harish Tandon, told the West Bengal government.
The Mamata Banerjee-led TMC government had imposed restrictions on Durga idol immersions on September 30, the Vijaya Dashami day, after 10 PM and completely prohibited immersions on October 1, the day Muslims will observe Muharram. Reminding the state that there's a difference between regulation and prohibition, the court said people have the right to practise their religious activities, whichever community they may be of, and the government cannot hinder a citizen's right without providing sound reasons for doing so.
"Let them (Hindus and Muslims) live in harmony, do not create a line between them," acting chief justice Rakesh Tiwary had said during a hearing n Wednesday.