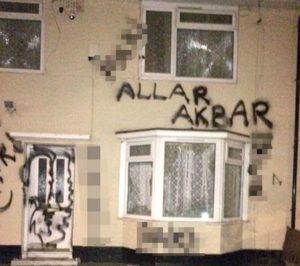 Horrified residents woke up this Sunday  morning to see ugly racist graffiti daubed on to the outside of a house in Speke .
The disgusting messages included "P***" and "Allar Akbar" (sic) and were smeared in black paint all over the front of the terraced property.
Allah Akbar is an Arabic phrase which translates as "Allah is Greater".
It is recited by Muslims and Arabic speaking Orthodox Christians as an expression of their faith.
It is believed the racist yobs struck late last night or in the early hours of this morning.
The house in Stapleton Avenue is currently unoccupied but a Sri Lankan family are about to take up residence after having moved to the area from London, where they have lived for the past 11 years.
The people behind the racist graffiti clearly mistook their new neighbours for people from Pakistani, rather than Sri Lankans. Additionally they are Hindus, and not Muslims.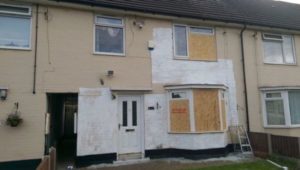 The family-of-five are due to join other members of the same Sri Lankan family who have already been living in Speke for the past two years.
Today the racist graffiti had been whitewashed while both the upstairs and downstairs windows, which were also smashed in the attack, were boarded up.
The owner of the house, who declined to be named, said: "We have been getting the house ready so I can move in with my family.""I have been living in London for 11 years and we are moving here to join my brother."I've never seen anything like this before.
"We are not even Muslims, we are Hindus, and we hate the terrorists also.
"I am very upset and scared now. I have a wife and three young children but we are still going to move in."
He said sympathetic neighbours had been bringing gifts including chocolates after the racist graffiti was discovered.
A nearby resident said: "I got the shock of my life when I woke up this morning and saw the outside of the house. It's heartbreaking.
"I've lived here 15 years and this is the first time anything like this has happened.
"I just hope it hasn't put off the family who are moving in. The vast majority of people in Speke are not like that."
Police last night confirmed it was investigating 'an incident of hate crime' in Speke after the house was daubed with offensive racist graffiti and the windows were smashed.
Officers were called just before 12.30pm on Sunday afternoon although it is thought the house was targeted some time after 10pm on Saturday.
House-to-house enquiries have been carried out and detectives have launched an inquiry.
Source:ECHO