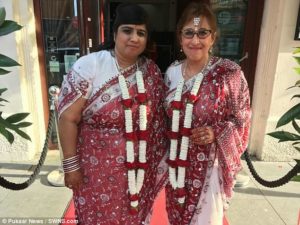 A Hindu and a Jewish woman have made history by tying the knot in what is believed to be Britain's first interfaith lesbian wedding.
Kalavati Mistry, of Leicester, and Miriam Jefferson, Texas, married on Saturday, 20 years after falling for each other on a training course.
During the emotional Hindu ceremony, the brides both wore traditional red and white bridal colours, fresh garlands, and 'mangala sutra' necklaces.
Kalavati, 48, had kept her sexuality secret most of her life and only came out to her strictly religious parents a few years ago.
And after getting her family's blessing the couple then struggled to find a Hindu priest to conduct the ceremony.
The pair were finally able to tie the knot at the Chutney Ivy restaurant in Leicester city centre at the weekend in front of proud friends and family.
The newly-weds, who both work for an interfaith organisation, have now flown off to Miriam's hometown of Texas to spend the rest of their lives together.
Kalavati said: 'I met Miriam when I was approximately 26 years old.
'I went to America on a training course and we were doing diversity work and training and that's where I met Miriam Jefferson.
'Marriage is very important to me. I grew up in a very traditional household, and really value the traditions and the culture.
'To me, I wanted to spend my life with someone, in a union. Some of the rituals that you do in a wedding are very important. I wanted me and Miriam to join in that union.'
The wedding ceremony at Chuntey Ivy restaurant was attended by both Kalavati and Miriam's friends and family.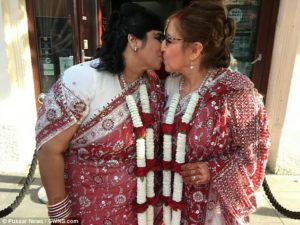 Local Hindu female priest, Chanda Vyas carried out the ceremony and was delighted to be part of the event. "Kalavati and Miriam were so happy and I was honoured to be a part of it and to be able to help make Kalavati's Hindu wedding dream, a reality."
During the ceremony, the brides both wore traditional red and white bridal colours, fresh floral garlands and a 'mangala sutra' (a necklace traditionally tied around Hindu bride's neck) to show that they are now married women.
The couple also had a Jewish wedding earlier this year in San Antonio Texas. Now the Hindu wedding is over, the couple feel they have a stronger bond that has bought them closer together.
"I think I will follow the Hindu faith and I will follow some of the Jewish traditions and I would like to celebrate both and embrace both Hinduism as well as Judaism,' says Kalavati.
Source:various