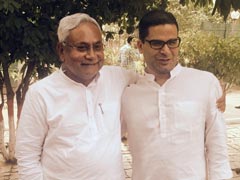 Poll strategist Prashant Kishor, who was engaged by JD(U) leader Nitish Kumar for the November 2015 Bihar assembly election which the RJD-JD(U)-Congress grand alliance won by a big margin, has ceased to be advisor to the Bihar chief minister.
Kishore's tenure was deemed to have automatically ended with the premature fall of the Grand Alliance government last week, when Kumar resigned as CM over the RJD failure to 'come clean' on CBI's corruption charge on deputy CM Tejashwi Prasad Yadav, and formation of a new JD(U)-BJP-LJP government.
Kishor had been made advisor to CM, in the rank of a cabinet minister, soon after the formation of the GA government in November 2015, 'to give wings to the development of Bihar', through a 'special purpose vehicle called the Bihar Vikas Mission (BVM).
The Mission's immediate goal was to work towards executing Nitish's saat nishchay or seven-point agenda – economic programming specifically geared for youth; job reservations and empowerment for women; electricity, drinking water and toilets to each home; laying pucca streets through habitations across the state; and expanding economic opportunity through education.
Kishor's task, as advisor to CM and BVM governing board functionary, was to devise a development blueprint in sync with Nitish's electoral promises.
Prior to joining Nitish Kumar, Kishor shot into prominence as an election strategist for the BJP during the 2014 Lok Sabha elections. 
"Kishor has been out of Bihar for a long time. He never attended any meeting of the mission. With the change of government, his position automatically ceases to be. He had been working for Punjab Congress and in UP, but not in Bihar for nearly a year," said a senior official associated with the mission.
Though there is no official communication from Kishor regarding his position, it is believed he has effectively ceased to hold his position as advisor to CM and in BVM. "In the new political set up in the state, it is quite logical also," said the official.