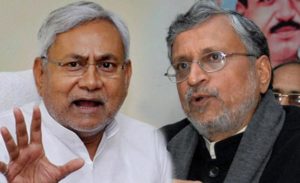 Patna, Jul 27 (PTI) Nitish Kumar was today sworn as the Chief Minister of Bihar for the sixth time, a day after he resigned, dumped coalition partner Lalu Prasad's RJD and joined hands with the opposition BJP to reclaim his post in fast-paced manoeuvre that re-drew the political landscape of the state.
Governor Keshari Nath Tripathi administered 66-year-old Kumar the oath of office and secrecy at the Rajendra Mandapam at the Raj Bhawan here.
Senior BJP leader Sushil Kumar Modi was also sworn in. He will be the deputy chief minister, a post he held in the previous NDA governments in the state.
The Governor has asked Kumar to prove majority on the floor of the House within two days, after the JD(U) walked out of the barely two-year-old alliance with the RJD and Congress.
Union Health minister J P Nadda and BJP leader Anil Jain were present at the brief ceremony where only Kumar and Sushil Modi were sworn in.
Kumar quit the post last night after a fall out with the alliance partner RJD over corruption charges against Lalu Yadav and some of his family members, including son Tejashwi, who was the deputy CM in the previous dispensation.
"Whatever decision we have taken will be in the interest of Bihar and of its people. It will ensure development and justice. It will also ensure progress. This is a collective decision. I ensure that our commitment is towards the people of Bihar," Kumar told reporters after the swearing-in.
With JD(U) returning to the NDA fold, the changed political equations are likely to impact the 2019 general elections. While the BJP is buoyed by the development, there is disquiet in the Opposition camp as it has jolted the efforts to forge a unity to take on the saffron juggernaut.
Prime Minister Narendra Modi congratulated Kumar and said he looked forward to working together for Bihar's prosperity.
Nobody from the RJD or the Congress attended the swearing-in ceremony protesting over the "denial of chance" to the RJD, the single-largest party in the state assembly, to form government.