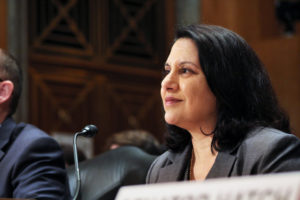 U.S  Senate has confirmed Neomi Rao as the head of the Office of Information and Regulatory Affairs, which is tasked with reviewing executive branch regulations.
Rao, 44, a former clerk for conservative Supreme Court Judge Clarence Thomas, is tasked with leading a White House agency that will play a leading role in implementing President Trump's agenda for reforming government rules and regulations.
The Senate confirmed her largely along party lines, in a 54-41 vote.
"I applaud my colleagues in the Senate for confirming Professor Rao's nomination," said Sen. Ron Johnson, R-Wis., chairman of the Senate Homeland Security and Governmental Affairs Committee, in a statement. "We can all agree that federal regulations should achieve their aim without imposing unnecessary costs on the country's economy and job creators. I look forward to working with Professor Rao to reduce the burden of regulations – by our best estimates as high as $2 trillion a year – that weigh on the American economy."
Rao has bipartisan support, earning the backing of a group of eight former administrators of the Office of Information and Regulatory Affairs, including Republicans and Democrats.
Under Trump, the Environmental Protection Agency has moved to undo more than 30 rules. He has issued a number of executive orders intended to reduce regulations on industries from banking to farming.
The Office of Information and Regulatory Affairs approves proposed and final rules and government data collections.
Rao will also be tasked with ensuring the Trump administration follows the law as it unwinds rules and regulations.