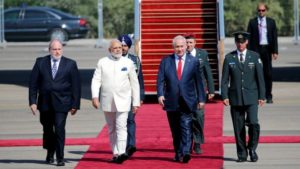 Prime Minister Narendra Modi arrived in Israel on Tuesday to a rousing reception at Tel Aviv airport with Israeli PM Benjamin Netanyahu greeting him with the words "Aapka swagat hai mere dost."
Attesting to the shared values and friendship between India and Israel, PM Modi said a strong and resilient partnership between the two countries was the focus of his trip, which he called "groundbreaking".
"It is my singular honour to be the first ever Prime Minister of India to undertake this groundbreaking visit to Israel. This visit celebrates the centuries old links between our societies as well as the establishment of 25 years of diplomatic relations between India and Israel," PM Modi said at his reception ceremony.
The two leaders vowed to give a push to their bilateral relationship in all aspects and jointly deal with common threats like terrorism.
Prime Minister Benjamin Netanyahu also expressed his admiration for India's culture, history, democracy and commitment to progress and said the two countries could do even better together.
Indian Jews in Israel prepare to welcome, meet Narendra Modi, say 'he's special'
Modi's three-day visit beginning on Tuesday – the first ever of an Indian Prime Minister to Israel – is a landmark moment for the Jewish state, a country seeking the friendship of powerful allies and customers for its advanced military equipment.
But for members of the small Jewish Indian community in Israel, the trip is a cause of genuine excitement and a unique opportunity to increase their visibility.
"There's not a single (Indian) household that's not talking about it. This is all people are talking about," said Elazar Ashtivker, owner of the Maharaja restaurant in the city of Ramla, south of Tel Aviv.
"It's historic," he said.