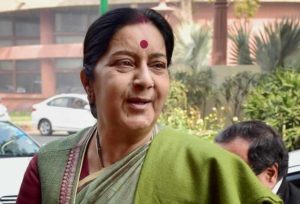 External Affairs Minister Sushma Swaraj is the lead contender to become National Democratic Alliance's (NDA) candidate as the next President of India. Top Bharatiya Janata Party (BJP) and RSS sources tell CNN-NEWS18 that Swaraj qualifies in every criteria laid down by the BJP top brass and also has the endorsement of the Sangh.
Swaraj qualifies in every criteria laid down by the BJP top brass and also has the endorsement of the Sangh, they said, adding that her name could figure in Friday's talks between the ruling dispensation and the Opposition to build consensus ahead of the presidential elections slated for this month end. Senior BJP leaders — Home Minister Rajnath Singh, Finance Minister Arun Jaitley and Information and Broadcasting Minister Venkaiah Naidu — are to meet Congress president Sonia Gandhi and CPM's top honcho Sitaram Yechury in this regard on Friday.
A seven-time MP and three-time MLA, Swaraj has been in public life since the Janata Party days. She grew up in a family of swayamsevaks and commands respect across party lines. As External Affairs Minister, her personal interventions in bringing home stranded Indians have made her a darling of the social media.
A  BJP leader said while the party was trying to build consensus, but if Congress wants to stay out, his party wouldn't mind it. "Once all other parties agree on a name, Congress will have no other option," he added.
Recently, Venkaiah Naidu – Union minister and one of the three top leaders tasked with speaking to Opposition on the presidential polls – had told News18 that the government will try its best to create a consensus on this matter.
We will try our best. After all, we have to elect the President of India, and not a party president," he had said.
The Opposition parties have met thrice on the issue — first at Sonia Gandhi's residence on May 26; then at DMK supremo Karunanidhi's birthday in Chennai on June 4; and most recently on June 14 in New Delhi. After the June 14 meeting, Leader of Opposition in Rajya Sabha.
On its part, BJP seems confident that its candidate will sail through. The Electoral College for choosing the President consists of 4,896 voters. While the Lok Sabha has 543 voters and the Rajya Sabha 233, the overwhelming majority, 4,120, comes from state assemblies. The total value of votes in the election is 10,98,903 — 5,49,408 for MPs and 5,49,495 for MLAs.
The value of each vote of an MP is 708 but this differs for MLAs from state to state. The value of an MLA's vote in Uttar Pradesh is the highest (208) and the lowest is Sikkim (7).
The NDA by itself is short of about 18,000 votes. But it expects to gain the support of many smallerparties, besides all the factions of the feuding AIADMK, which has vote value of over 26,000.
(Source:CNN 18)