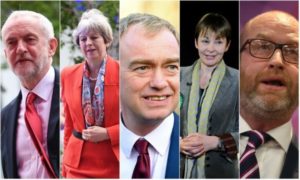 So the stage is set, with two days to go from being total laggards the Labour Party has narrowed the gap significantly with then ever confident Conservatives. Labour leader who once was subjected to mockery seems start performer in front of TV audience and appears to talk to the people unlike PM Mrs May fronting the Conservatives who has not had good campaign lately since the manifesto U turn or clarification regarding the social care costs. Labour have promised the earth from abolishing student's tuition fees to nationalising Utilities and railway. Their fully costed manifesto of some £43 billion assumes raiding the rich and increasing corporation tax.
With two recent terrorist attacks the focus has shifted on security and Labour are once again hounding May about reducing police officer numbers by 20,000 which the Conservatives refute, saying 'we have to live within our means' hinting to the mess Labour left (literally with a note to the incoming Exchequer that there was no money left!)
Each party attracts different kind of voter, some politicians whilst interviewed on the Radio can't do the sums, some get agitated in the hustings and door to door leafleting tends to be headline grabbing without substance. Amazingly the main point for which the snap election was called for in the first place 'Brexit' seems a distant issue as Labour, Liberals and SNP appear to want to frustrate the process and do not have a lot to contribute.
The Indian diaspora is well informed however as to whether they will vote and for the right party is a question. Many from the Hindu, Sikh and Jain community feel that Labour party is simply peddling socialism backed by Muslim votes in the inner cities and they are ignored in relative comparison to their contribution to the economy, tax revenue and particularly embracing the British values. No Labour MP has dared supporting any motion relating to Kashmir in India's favour tabled by veteran Conservative MP Bob Blackman probably because they do not want to lose their vote bank. The recent visit by the PM to the BAPS Neasden Temple and the rapturous welcome by the devotees is evidence enough of the voting direction the Hindu community may take. During the 2015 elections a group of concerned Hindus took out protest march in front of the Parliament to show their anger against the Newham Labour Council who closed Upton Centre, the only council funded place for the Hindus yet on the same road there is a house converted into a mosque (of over 360 in the borough). Needless to say they are still waiting for a suitable replacement.
Labour Party's politics are not worthy of its past when it was genuine socialist for the poor whether you take the total fall out from heavy borrowing, Iraq war, child grooming cases in Rochdale, voter corruption in Tower Hamlets, proliferation of Sheds  for cash and disproportionate numbers of mosques in Labour controlled areas to name a few.
For the UK Indians I would suggest the following checklist. Which party
Is capable to negotiating the Brexit which is favourable to both them and India
offers value for your tax money
will not promote 'buy now pay later' thus burdening future generation
conducts politics above religion and reduces 'jobs for the boys'
has long term economic plan both for individuals and the country
will ensure that the anti-terror laws are used effectively and the Police gets more power
is compassionate yet aspires rather than making people live on a lifestyle of benefits
is in the favour of grammar schools to maintain good education standards
creates favourable terms for business
continues investing in NHS but will reduce waste
will not protect, empower or favour those who are disloyal to the UK's national interest
will not be making popular sound bites and be overtly 'politically correct'
will quash corruption at Local councils whether allocating housing or school places or vote rigging
has recognised the qualities, spiritualties and assimilation within the British society which the peaceful ethnic communities like Hindus Sikhs and Jains has achieved
will help repeal the much disliked caste legislation
If you have ticked more than ten than blue is the way for sure
Author: DESH PREMI