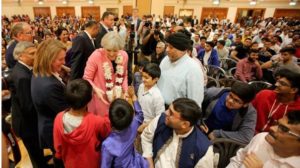 "British Hindus provide a shining example of how a community can integrate successfully and embrace British values whilst retaining their cultural heritage and identity." Prime Minister Theresa May MP
On Saturday evening Prime Minister Theresa May visited BAPS Swaminarayan Mandir, Neasden and over 3,500 Hindus gave the PM and her husband Philip a rapturous welcome.
Arriving to a warm but dignified reception and welcome, the Prime Minister opened her address with "Jai Swaminarayan" the spiritual greeting of the Swaminarayan tradition and the congregation exploding into thunderous applause, opened their hearts to her.   
Rt Hon PM Theresa May stood on the dais, having been garlanded and formally welcomed to the largest Hindu temple in the UK. Only a few minutes earlier she had participated in the Hindu spiritual practice of "Abhishek", during which sanctified water is presented to a deity, a symbol of Divinity, accompanied with a private prayer or a meditative reflection. Both the PM and her husband Phillip visited the inner sanctum and then proceeded to the main audience hall where over 3,500 Hindus had gathered to listen to and hopefully meet, the Prime Minister.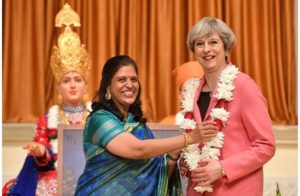 Her speech which recognized the contribution of British Hindus and the importance of strengthening Indo British ties in a post Brexit world, received passionate applause. The PM recognised the "Karma Bhumi" principle behind the Hindu ethics of hard work and social service "to the land where one lives" and she made particular reference to the world renowned Hindu commitment to education. When she announced "100 free schools per year" as a Conservative Government objective, the applause from the educationalists in the audience reflected the resonance that this policy found with the Hindu community. With the 6 existing Hindu community schools being repeatedly assessed as 'outstanding' including the nearby Swaminarayan School across the road, this was welcome news indeed. When the PM remarked that "there is much to take pride in, like the fact that on measures like educational attainment in the early years, children of Indian ethnicity are amongst the top performing", many of the younger volunteers grew visibly taller, delighted and proud of the praise from the PM.
The Prime Minister went on to reiterate that "British Hindus provide a shining example of how a community can integrate successfully and embrace British values whilst retaining their cultural heritage and identity.  British Indians provide inspiring role models across all walks of life, from business to medicine; finance to charities; and teaching to the creative industries."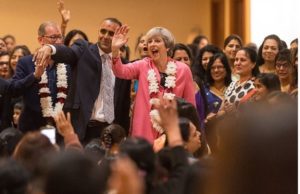 With each important element of her speech receiving applause, the PM's emphasis on the vision of a meritocracy will have resonated deeply with the Hindu congregation. Hindus, for whom the understanding of Karma, the idea that one's efforts and actions determine one's attainments, underpins every choice and action, a vision of a nation where efforts, both individual and collective are recognised and applauded, will most definitely have been welcomed.
As well as leaders of the Swaminarayan family, also present were the Trustees of the principal British Hindu organisations. Leaders and representatives from the National Council of Hindu Temples(UK), Hindu Forum of Great Britain, the Vishva Hindu Parishad and the Hindu Swayamsevak Sangh were joined by political leaders from the Overseas Friends of the BJP and many others, as well as leaders from other branches of the Dharmic traditions.
Also present were leading business men and entrepreneurs as well as many Hindu charity volunteers and Trustees. The PM was accompanied by Lord Gadhia and Lord Popat as well as Indian origin MP's such as Rt Hon Priti Patel, Rt Hon Alok Sharma and former Minister Shailesh Vara. Taking time out from campaigning Bob Blackman (who is widely accepted as having been an Indian in a past life or destined to be one in a life to come) was accompanied by Hannah David and Ameet Jogia all of whom are standing for election later this week.  
Whether British Hindu voters vote for PM Theresa May who performed Abhishek with Britain's Hindus and whose party has elevated Indian Origin Parliamentarians to cabinet and Ministerial positions, or whether they vote for Rt Hon Jeremy Corbyn who snubbed PM Modiji's Parliamentary address and whose grandees are determined to foist Caste labels upon British Hindus, it is critical that British Hindus do vote.
Whether voters accept the remarks made by Labour's own advisor on India and co-founder of Labour Friends of India, Manoj Ladwa, who last week declared that "Labour has lost its way to the point that the relationship between Labour and the British Indian community often feels adversarial" or whether they prefer to support old loyalties, British Hindus MUST as a duty, vote.
It is clear that Jeremy Corbyn's outright refusal to even discuss the impact of Labour's Hinduodic 'Caste proliferation' agenda, has alienated formerly loyal Hindu voters in droves, whereas the Conservative party, which has demonstrated that it is listening to British Hindus, may well reap the rewards of this strengthening engagement. If the warmth and affection with which the British Hindu's welcomed the Prime Minister at the Neasden Mandir translates into support on Thursday, the move away from Labour towards the Conservatives may well become more than a short term blip and more of a paradigm shift.
On the 14th May 2013 a white Glaswegian stood at a podium at the same temple and opened his address with the words "I found as a young man in 1983, when I left home in Glasgow to become a Hindu monk, that if I could memorise a few words in Hindi "Kya Haal hai? – How are you?" or Gujarati "Kemcho Maasi? How are you Aunty?" that with just a couple of words I could win the hearts of the whole community. It was such a beautiful community to be a part of". On Saturday night Prime Minister Theresa May and her colleagues made it abundantly clear that they had already gone significantly beyond "Kemcho Massi?"  and in response the concluding applause from the members of the congregation and especially from the Hindu leaders and key community influencers, seemed to confirm that they had heard her affectionate, appreciative and above all respectful appeal and seemed ready to add their blessings and support to the Prime Minister's vision.
Hindu voter engagement is below average at 39% (Muslim's 67% & Sikh 63%) and if we wish to see harmony, non-violence and wisdom (the key elements of Sanatan Dharma) become firmly established in British life, Hindus must vote. A core message from the Bhagavad Gita is the advice given by Sri Krishna to Arjuna when he repeatedly advises Arjuna to ACT, to engage, to perform his service selflessly, which in this present context means to stand for election, to campaign, to engage and above all as a minimum, to vote. Without action Dharma cannot be served nor maintained and without serving Dharma, one can hardly call oneself a Hindu.
Wise sages have said that more important than Rama is the name of Rama, and similarly, more important than who you vote for, is that you do actually go and vote!
Satish K Sharma MBCS FRSA
General Secretary, National Council of Hindu Temples (UK)
Chair, British Board of Hindu Scholars