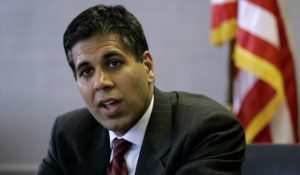 The  US Senate voted Thursday to confirm President Trump's first appellate court nominee, Judge Amul Thapar, overcoming opposition from Democrats and signaling the troubled road ahead as the White House tries to stock the bench with conservative judges.
Judge Thapar will fill a seat on the 6th U.S. Circuit Court of Appeals that's been vacant since 2013.
Republicans said the judge is a good example of the kind of picks Mr. Trump should make.
"He will fairly apply the law to all who enter his courtroom because, in Judge Thapar's own words, 'the most important attribute of a judge is to be open-minded and not to prejudge a case without reading the briefs, researching the law and hearing from the parties,'" said Senate Majority Leader Mitch McConnell, Kentucky Republican.
Thursday's 52-44 party-line vote is part of a near-universal resistance Democrats have mounted to Mr. Trump's major nominees, both for his administration and now for the federal courts. Four Democrats didn't cast a vote.
The 6th Circuit Court sits in Cincinnati and covers Ohio, Michigan, Kentucky and Tennessee.
Curt Levey, executive director for the Committee for Justice, said he doesn't expect a major impact on the court's rulings because a majority of the judges are already GOP appointees.
"Perhaps the most important thing about Thapar's quick confirmation is that it puts him in a perfect position to fill any Supreme Court vacancies that occur in 2018 or thereafter," said Mr. Levey.