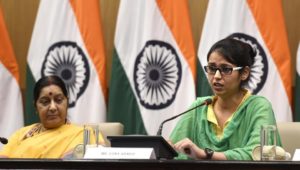 Uzma Ahmed, the Indian woman who was allegedly forced to marry a Pakistani man at gunpoint during her visit there, called Pakistan a "well of death" while narrating her ordeal on her return yesterday.
She returned home via the Wagah Border with External Affairs Minister Sushma Swaraj saying she felt "sorry for all that you have gone through." Describing Uzma Ahmed as "India's daughter", Swaraj welcomed her to India. "I am sorry for all that you have gone through," she tweeted.
"Pakistan is a 'maut ka kuan' (well of death). I've seen women who go there after arranged marriages. They're miserable and living in terrible condition. There are two, three, even four wives in every house," Uzma said.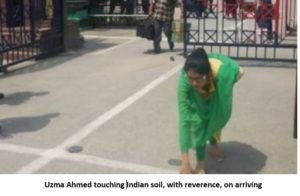 Uzma, who is in her early 20s, hails from New Delhi. She was allowed by the Islamabad High Court yesterday to return to India following a plea she filed with the court requesting its directive after her husband Tahir Ali took her immigration papers. She touched the ground after she entered the Indian territory.
Yesterday, the high court handed over her original immigration documents after Tahir submitted them to the court a day earlier.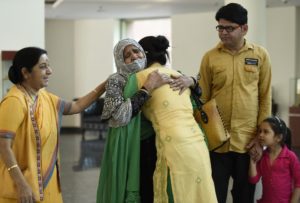 She has said she was forced to marry Tahir at gunpoint. The two reportedly met in Malaysia and fell in love. Uzma reached Pakistan on May 1 and travelled to the remote Buner district in Khyber-Pakhtunkhwa province where she was married to Tahir on May 3.
Later she came to Islamabad and took refuge in the Indian High Commission.