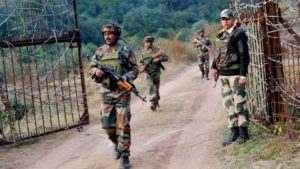 The Indian army said on Tuesday it has attacked and damaged Pakistani posts along their de-facto border as part of counter-insurgency operations to stop militants from crossing into India.
In a rare move, the army also released what it said was a video of the military action that showed heavy artillery blasting temporary bunkers and shelters on a tree-covered mountain. The video was shot in Jammu's Naushera sector on May 9, army officials told HT, a little over a week after the beheading of two Indian soldiers by a Pakistan army team.
Map shows location of Naushera.
"Punitive fire assaults across the Line of Control are being undertaken by the Indian army," said Major General Ashok Narula, who heads the army's public information wing. He did not give dates.
Pakistan military spokesman Maj Gen Asif Ghafoor called the Indian claim "false".
Narula told journalists the aim of the military action was to "bring down the number of terrorists in Jammu and Kashmir so that youths are not adversely influenced by terrorists from across."
The assault is also the latest escalation in tensions along the LoC, the volatile de-facto border militants use to sneak into India, often under cover fire from the Pakistani army.
"Pak army has been providing support to armed infiltrators by engaging our forward troops… At times they have not even hesitated to target villages in proximity to the LoC," Narula said. "Locations aiding infiltration of terrorists are being targeted and destroyed to deny advantage to terrorists thus curbing infiltration attempts."
Army sources said the weapons used against Pakistani posts included artillery guns, mortars, rockets, anti-tank missiles and grenades.
Defence minister Arun Jaitley said the army was taking pre-emptive and measured actions to counter terrorism in Kashmir and disengage Pakistani posts supporting infiltration attempts.
The opposition Congress hailed the army action but asked Prime Minister Narendra Modi why he was not raising the issue of rise in infiltration from Pakistan at the international fora.
"We salute the valour and sacrifice of the Indian army. Where is the loud BJP government? When will it stop infiltration from Pakistan?" asked party spokesperson Randeep Singh Surjewala.