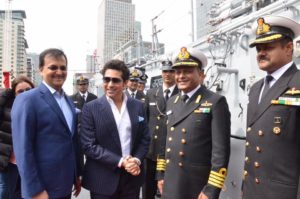 Hundreds of UK-based Indians turned out to cheer as cricket legend Sachin Tendulkar welcomed an Indian naval frigate as it docked on the river Thames in London today. INS Tarkash, a state-of-the art stealth ship, is in the UK for naval exercises and to mark UK India Year of Culture 2017.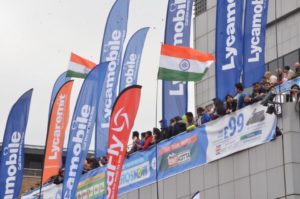 "It is a very historic moment as this is the first time an Indian stealth frigate has docked at Canary Wharf in London. We wanted Indians based in the UK to come and be part of this unique event," said Indian deputy high commissioner to the UK, Dinesh K Patnaik, who joined Tendulkar and his wife, Anjali, for a tour of the ship.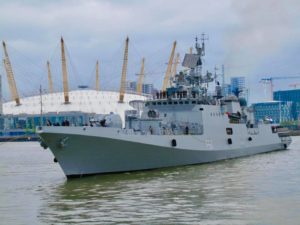 Tarkash belongs to the Talwar class of guided missile frigates. These are modified Krivak III-class frigates built by Russia. These ships use stealth technologies and a special hull design to ensure a reduced radar cross section. Much of the equipment on the ship is Russian-made, but a significant number of systems of Indian origin have also been incorporated. The main difference between Tarkash and the earlier Talwar-class ships is the use of BrahMos missiles in place of the Klub-N missiles in the earlier ships.[5] It is the second of the three frigates built in Russia as a follow-up order to the first batch of Talwar-class frigates.
The frigate's arrival in London was marked by a series of Indian cultural performances, with the crowds dancing to patriotic tunes.
INS Tarkash, under the command of Captain Rituraj Sahu,will remain docked in London until next week.