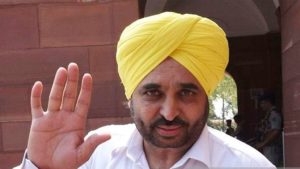 CHANDIGARH: Even as Aam Aadmi Party (AAP) on Wednesday blamed EVMs for its loss in the Delhi municipal elections, one of its tallest leaders in Punjab, Sangrur MP Bhagwant Mann starkly differed with his compatriots. He told TOI that it would be wrong to blame EVMs and that included the defeat in Punjab assembly elections as well.
Start finding faults in the party," he said. Mann, who was the star of AAP's Punjab campaign, addressing over 400 rallies in the run-up to the February 4 polls, said, "I won by the maximum margin in the 2014 Lok Sabha elections in Punjab and that time no questions were raised about EVMs. Again, there were no doubts about the technology when AAP won 67 seats in the Delhi assembly elections."
Speaking freely, he said, "There was a problem with ticket distribution and some other decisions of the party (in Punjab). Two new parties – Yogendra Yadav's Swaraj Abhyan and Sucha Singh Chhotepur's Aapna Punjab Party (APP) — have come out of the three-year-old party (AAP). It indicates that something is seriously wrong."
Mann is also of the view that not declaring a chief ministerial candidate affected the party's prospects in the Punjab. "There's a park in front of my house where children play cricket. Without a captain, the team members are free to take turns to bat and bowl. The same scenario prevailed in AAP Punjab during the campaign. We played a similar match in the state. I would have been happy if Arvind Kejriwal himself or someone else was declared the CM face," he said.
The chairman of the AAP's campaign committee also questioned the decision to make ex-MLA from Rajauri Garden, Jarnail Singh, contest the election from Lambi against former CM Parkash Singh Badal. "He was already a party MLA. Didn't you want to give someone else a chance? I conveyed it to Kejriwal," he said. Jarnail Singh finished third in the Punjab elections and the party also lost the Rajauri Garden by-election.
"I did not raise these issues before the elections as I feared that people would say my personal ambition got in the way of the revolution. But there is need for introspection now," he said.
Mann said he had been a successful artiste and got into politics because he wanted to bring about change. "I first aligned with Manpreet Badal's People's Party of Punjab (PPP) but he went to Congress. I then joined AAP and gave it my all, addressing back-to-back rallies throughout the campaign," he said.
Mann has already made a point by not campaigning for the party in the Rajauri Garden by-election and also the Delhi municipal elections even though he had campaigned aggressively to woo the Punjabi community in the previous elections.
Courtesy:TOI