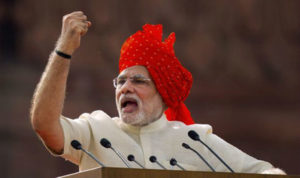 The health scheme will have a positive impact on 50 crore Indians, PM Modi said.
Prime Minister Narendra Modi delivered his fifth Independence Day speech as Prime Minister, from the ramparts of Red Fort.
He announced the launch of the Pradhan Mantri Jan Arogya Abhiyaan, a national healthcare scheme that will "impact 50 crore Indians." He also announced 'Gaganyaan', a space programme to be launched by 2022.
After unfurling the tricolour at Red Fort, PM Modi kicks off his last Independence Day address before the Lok Sabha election in 2019.
My beloved Indians, I wish you a Happy 72nd Independence Day.
I salute the women of India. Our daughters have crossed all seven seas and have coloured the world in tricolour.
I salute the children of tribals who unfurled the national flag on Mount Everest and made India proud.
Triple talaq
Speaking on triple talaq, the PM says, "The practice of triple talaq has caused great injustice among Muslim women. We are trying to end this practice but there are some people who are not wanting it to end. I ensure the Muslim women that I will work to ensure justice is done to them.
Justice for women
PM Modi says, "We have to free our country from this mentality of rape. In Madhya Pradesh, rapists were given death penalty within 5 days. We should make people more aware."
PM announces Jan Arogya Abhiyaan
"Pradhan Mantri Jan Arogya Abhiyaan will be launched on 25th September this year. It is high time we ensure that the poor of India get access to good quality and affordable healthcare
"The healthcare initiatives of the Government of India will have a positive impact on 50 crore Indians. It is essential to ensure that we free the poor of India from the clutches of poverty due to which they cannot afford healthcare," he says.
PM announces Gaganyaan space programme
An Indian astronaut, be it a man or a woman, will go on a space odyssey by 2022 on board 'Gaganyaan', Prime Minister Narendra Modi says.
"When India celebrates 75th year of Independence in 2022 and if possible even before, an Indian son or daughter will undertake a manned space mission on board 'Gaganyaan' carrying the national flag."
Will bring modernity to agricultural sector: PM Modi
"Out of the 13 million who have taken the Mudra loan, 4 million people have taken it for the first time. This presents a new India.
"Today our full focus is to bring modernity to change in the agricultural sector. With a 'Beej Se Bazar Tak' approach, we are bringing remarkable changes in the agriculture sector. The aim is to double farmer incomes by 2022.
"Due to Swachh Bharat mission, lakhs of children can lead healthier lives. Even the World Health Organisation has lauded the movement," he says.
Talent from North East
North East is nowadays coming up with news that is giving inspiration to the country, PM Modi says. "There was a time when it felt like it was too far from Delhi. Now we have brought it to the doorstep of Delhi."
PM Modi presents NDA report card
Speaking about the achievements of the BJP government in the last four years, PM Modi says,
"The demand for higher MSP was pending for years. From farmers to political parties to agriculture experts, everybody was asking about it but nothing happened. With the blessings of the farmers, the decision on MSP was taken by our Government.
"Who did not want the passage of the GST? Yet it was pending for years? Last year GST became a reality.
"The OROP demand was pending for decades. The people of India, our brave army personnel had faith in us and we were able to take a decision on OROP.
"From being seen as among the fragile five, India is now the land of reform, perform and transform. We are poised for record economic growth. India's voice is being heard effectively at the world stage. We are integral parts of forums whose doors were earlier closed for us.
Modi takes a dig at UPA govt
In a veiled dig at the UPA government, PM Modi says. "If we had continued at the same pace at which toilets were being built in 2013, the pace at which electrification was happening in 2013, then it would have taken us decades to complete them
"We are very proud of what we have achieved but at the same time, we also have to look at where we have come from. That is when we will realize the unbelievable strides the nation has taken."
'Social justice for all'
PM Modi says, "The Constitution of India, given to us by Dr. Babasaheb Ambedkar has spoken about justice for all. We have to ensure social justice for all and create an India that is progressing rapidly.
"The poor get justice, everyone has the opportunity to move forward according to his will and aspirations."
Modi invokes Bharathiyar
The Prime Minister in his I-Day speech invoked Tamil poet Subramanya Bharathiyar. Speaking in Tamil, he says, "Bharathiyar wrote that India would not only emerge as a great nation but also inspire others. He said India will show the whole world the way to get rid of all kinds of shackles."
The recently concluded Parliament session was one devoted to social justice. The Parliament session witnessed the passage of the Bill to create an OBC Commission.
Mr. Modi spoke on the monsoon floods that have ravaged many states across the country. "Many parts of the nation witnessed a good monsoon but at the same time parts of India have been affected by flooding. My thoughts are with the families of those who lost their lives due to floods in various parts of India," he says.
Source:The Hindu