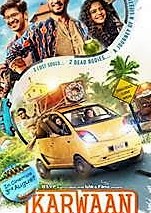 Since ancient times and coining of the phrase Caravasarai found in any Silk Route stories, Bollywood never missed a chance to make a film on this theme. Many of you of course remember the famous Jitendra and Mehmood starrer ''Caravan' (1971), Mehmood and Big B in his early days 'Bombay To Goa' (1972) giving audiences quality entertainment.
Most Indians by nature are good travellers so when invited to attend screening of the latest 'Karawaan' being released on 3rd August 2018 we could hardly refuse.The main actors are Irfan Khan, Malayalam star Dulquer Salmaan in his Hindi debut and Mithila Palkar. It's a comedy on the wheels of an old van carrying a dead body mixed up with another, fast moving landscape as well as language and storyline. The backdrop scenery is beautifully filmed around the Western Ghats, curving hills, modern highways, towns, small villages, backwaters and a posh resort of Kerala.

Irfan in his natural an inimitable style and one-liners keeps the humour going whereas Dulquer, playing Avinash who has lost his father in an accident keeps the sanity in check. There are interwoven stories of taboo subjects like acceptance of death, alcohol consumption and sex among the young, father-son, mother-son and mother-daughter relationships as well as about call-centre lack of customer care.
One of the points which affects all generations is how the expectation of a middle-class father is not matched by the interest and ethics of a son who wants to pursue a career which he likes rather than one favoured by his dad. In the end both realise that each feared the other to tell the truth.
In one of the funny scenes Irfan who plays Shaukat's character rescues a suffering younger Muslim woman (and third wife) from her very old husband who used to beat her. She promptly divorces him by saying talaq three times! A very bold and apt screenplay in keeping with liberation of women spearheaded by Modiji.
So well done RSVP Movies and Writer Director Ashok Khurana to bring a quality film devoid of swear words, dance routines but easy going and watchable with all family.
About the Film:
3 lost souls find themselves on an unexpected journey of discovery in Writer & Director Akarsh Khurana upcoming film Karwaan (A Group of Travellers). This comedy-drama promises quirky humour and stellar performances. The film depicts Avinash's (Salmaan) journey following the death of his father in a tragic accident whilst on a pilgrimage. Upon discovering there has been a mix-up of bodies, Avinash and his friend Shaukat (Khan) set out to find his body and deliver Tanya's (Palkar) Grandmother's body who died in the same accident. A life-changing journey awaits, where each one finds redemption, hope, love and eventually themselves.
DeshPremi