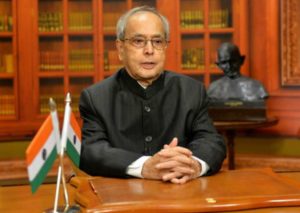 NEW DELHI: Former President Pranab Mukherjee has accepted RSS invite and decided to address RSS workers at the organisation's headquarters in Nagpur on June 7.
Mukherjee will address over 600 newly recruited RSS workers as chief guest at the valedictory session of the 'Tritiya Varsh Varg' or 'third year course' of the organisation. "After a meeting, we extended the invitation. Mukherjee has given his consent to participate," RSS's communications chief Arun Kumar said.
"Pranab Mukherjee left politics on assumption of the presidency. His speaking at any convocation is absolutely no indication of his beliefs nor of the content of what he is yet to say. Judge him by what he says and what are his established beliefs in 50 years of his political life," Congress spokesman Abhishek Singhvi said.
Congress president Rahul Gandhi faces a defamation suit filed by an RSS worker for his reported comment that the organisation was behind the murder of Mahatma Gandhi.