London Stock Exchange welcomed today Dewan Housing Finance Corporate (DHFL) to open London trading and celebrate the company's first Masala bond to London Stock Exchange's International Securities Markets (ISM). The deposit-taking housing finance business with a focus on providing financing products for the LMI segment in India, raised $150 million  in a landmark bond listing on 19 April 2018, receiving strong international investor interest across Europe and Asia. The five-year bond has an annual yield of 8.5 percent. DHFL will use the proceeds of the offshore rupee-denominated bond to implement its ambitious growth strategy through portfolio diversification and strengthen profitability through reduction in its cost of borrowing.
Nikhil Rathi, CEO, London Stock Exchange Plc:"London Stock Exchange is honoured to celebrate this landmark transaction with the Chairman of Dewan, and the Rt Hon Mark Field MP. We congratulate Dewan on its successful inaugural Masala bond listed solely on London Stock Exchange's International Securities Market. Through this market, the company is accessing a new deep international pool of capital to finance affordable housing in India. The successful admission is also a reflection of international investors' interest in the Indian growth story and it highlights London Stock Exchange's position as a strong partner to India and a leading global venue for raising equity and debt finance."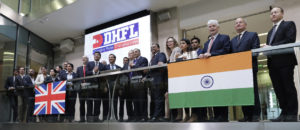 Kapil Wadhawan, Chairman WGC & CMD, DHFL:
"This is truly a significant milestone for DHFL making a debut listing in the international markets. India's mortgage-to-GDP ratio has been improving compared with other developing countries, reflecting major penetration and a sustainable and inclusive growth. The Government has taken several strong initiatives to stimulate the affordable housing industry and focus on people at the bottom of the pyramid. This has been DHFL's vision for the last 34 years, which has today assumed national priority through the Government's Housing for All mission. DHFL's Masala bonds issuance will provide further impetus to our ambitious growth strategy, and allow international investors to participate in India's high potential affordable housing story."
Rt Hon Mark Field MP, Minister of State for Asia and the Pacific at the Foreign & Commonwealth Office: "Indian ambition and British expertise are combining in exciting projects in infrastructure, technology, innovation and clean energy sectors, creating growth and jobs in both countries.
"London is well-known as the world's financial centre and I am pleased we continue to lead the way in international listings of Indian rupee or 'masala' bonds."
Dinesh Patnaik, Deputy High Commissioner of India to the United Kingdom:"I am delighted that Dewan Housing Finance Corporation is issuing its first Masala Bond on London Stock Exchange. London Stock Exchange has become the preferred location for raising finance specially Masala Bonds by many Indian companies. We have in the last few years raised around $5 billion through this source of funding. It is heartening to note that not only public sector undertakings from India but also many private sector firms are using this route to raise finance."