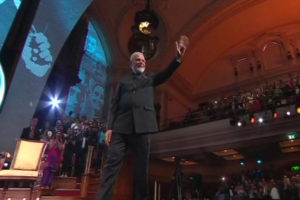 It is one of the warmer and sunnier day after cold and wet winter months. The Parliament square is full of people holding flags of India, Pakistan and (if there is one) Khalistan with respective supporters and protestors under the watchful eyes of the police. Of course the supporters far outnumbered the protesters, evidenced by the long queues of over two hours to enter the venue through airport style security.
Yes our dear PM Mr Modi is in town as part of the Commonwealth conference and has found time to appraise the Indian diaspora of the current situation in India at the historic and opulent Grade II* listed Central Hall Westminster opposite the Westminster Abbey. This venue witnessed the very first UN public address in 1946, speeches by Gandhiji, Martin Luther King Jr. and Winston Churchill.
The Bharat Ki Baat Sabke Saath programme started with introduction by the well-known Poet Prasoon Joshi followed by a short dance and music routine. Modiji entered to hall with a rousing welcome and Bharat Mata Ki Jai chants by some 1500 upstanding members of the UK Indian diaspora from all walks of life. The format was on Q & A style interrupted by a video clip of the theme they were to discuss, televised live over the Indian TV channels. I was fortunate to be one the balloted invitees and was spell bound for two hours of interesting and sometimes humours interlude by Modiji answering the question with thorough integrity, honesty and business-like manner providing relevant stats and facts.  Never before I have heard an Indian leader with such compassion and love for his country men and women and felt as if he was personally addressing to you.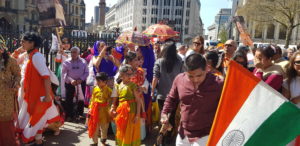 Modiji was humble and gracious, not bringing party politics bearing in mind we have a national election looming next year and we know how desperate the other parties are with   their media friends to gang up on him and his government.
There are clear changes and achievements his government of four years has made whether Swatchha Bharat to reduce open defecation, electrification of 18,000 villages, return of Gas subsidies and Senior Citizen train ticket discount by people able to pay, stopping Urea scams, Demonetisation to hinder some 86% of black currency, Modicare plan of Wellness Centre, Digital and Make in India campaign to name a few. He had all the vital figures by heart and did not have to refer to a prepared speech or a book you see by a British politician.
A gentleman with speech impediment asked about surgical strike and he replied with gusto detailing how it happened, how he asked the army to inform their counterparts in Pakistan and how India will no longer tolerate terror exporting actions. He insisted that even as a PM he is the servant of 1.25 billion people and does not want to go down the history as anybody special. Laughable though, that country still denies this happened!
To a young Sikh questioner who asked about how he inspires the youth at this age, he jokingly said his daily diet of 1 or 2kg of gaaliyan (swear words) help him keep fit! On serious side he advised that one can inherit genes, looks or wealth from their parents but looking after your health is your own job so following certain rules consistently helps. 
To a attendee referring to Bhagwan Basaveshwara's anniversary he said that he found time in his busy schedule to pay  homage to the 12th century  Lingayat philosopher and that his ideals motivate people across the world.
A number of times we were taken back to the history and reminded that for past 70 years, the then government was intent on eradicating the real Indian history. He also referred to his own Gujarati poem which he already uploaded on Twitter as promised as to how to survive on one's own –Ramata Ram Akela highlighting his wish of non-dependency on anyone. Even in a progressive democracy the voters should know that we have the power to change and participatory democracy is the way to go as per his mantra. He said that less the government intervenes the better it is for the masses as people who become dependent upon the government ultimately become weak. It is so true and shows that Modiji's principles are more akin to encourage an aspirational individual promoted by the UK Conservative Party rather than the Tax heavy and bureaucratic Labour Party who for generations made people state dependent. This alone proves that Labour Party who has hardly done anything with regards to anti-Semitism does not share the ethos of average Indian voter in the UK, noting that the support they get from the very groups who protested against Mr Modi who has already asked Theresa May to stop the rising Sikh radicalism in the UK.
Modi ji admitted that everyone can mistake and criticism is the best in a democracy. He said not to politicise rape in an impassioned way and the real problem is the need to teach the sons to treat the girls with respect. His other practical rhyming slogan 'Bacche ko padhai, Yuva ko kamai aur Vruddho ko dawai (Education for children, Wealth for the Young and Medicine for the Old) went well with the audience. He highlighted the steps taken for the healthcare of the very poor, women and children by planned introduction of wellness centres and cheaper generic medicines.
Modi ji has guts to visit Israel, Saudi, Palestine and UAE during his tenure as he his message is to project India as a humanist country on the march. It is worth mentioning that BBC did not report on this great historic event which shows their erstwhile narrative of underscore Modiji's achievement and rather portray him as a right wing Hindu leader which I am sure will do good for post Brexit trade with India!
'Saahas Mera Saath Tumhara' (My adventure, your support) embodies everything Modiji's vision is for the country. Encourage rather than make the subjects dependent as nothing will happen.
I am sure you have watched the speech live and I may have missed some of the points however this was an experience not to be missed. Modi ji is a true world leader and there are reports that during this Commonwealth conference some leaders wanted to have 'one to one' conversation with him. As patriot Indians we can look up with pride wherever because Modi ji has enhanced our profile in the world wherever we are.
Jai Hind
DeshPremi 18th April 2018