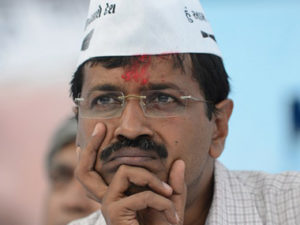 The Election Commission has recommended to the president of India, the disqualification of 20 AAP MLAs for allegedly holding an office of profit.
In its opinion sent to President Ram Nath Kovind, the Election Commission said that by being parliamentary secretaries, they held an office of profit and were liable to be disqualified as MLAs of the Delhi Assembly, highly placed sources said.
The president is bound to go by the recommendation of the Commission. In cases where petitions are made seeking disqualification of lawmakers, the president sends a reference to the EC which decides on the case by sending back its opinion.
If the president accepts the recommendation, Delhi will see a mini-Assembly election, with 20 seats up for grabs in the 70-member House.
The EC's recommendation serves as a major jolt to the ruling party in Delhi. The election body was hearing a plea against the party's nearly two dozen MLAs. They were accused of allegedly holding an office of profit despite the Delhi High Court setting aside their appointment as parliamentary secretaries.
An office of profit means a position that brings to the person holding it some financial gain, or advantage, or benefit. It may be an office or place of profit if it carries some remuneration, financial advantage, benefit etc. The amount of such profit is immaterial.
Lawyer Prashant Patel, filed an application in 2015 to the president's office, questioning the appointment of AAP MLAs as parliamentary secretaries.
In 2015, soon after AAP swept the Delhi elections, Kejriwal had appointed 21 legislators as parliamentary secretaries. The petition filed in the high court had sought their disqualification saying the Constitution does not allow elected representatives to hold offices of profit.
The AAP had said the recommendation was based on false allegations, alleging that the "BJP through its agents seriously compromises the prestige of the EC just to divert the attention of the nation from its all-around failures.
"What (the) Modi government appointed Election Commission is leaking to the media is a recommendation made without hearing the arguments of MLAs on the false allegation of office of profit. Such a blatantly biased recommendation will not stand scrutiny in the court of law.
AAP has an option to challenge the Election Commission ruling in the higher court.
The move will pave the way for by-polls in Delhi for 20 constituencies of the 70-member Assembly after presidential assent. The AAP at present has officially 66 members in the House although some have since turned dissidents. The other four seats are held by the BJP.