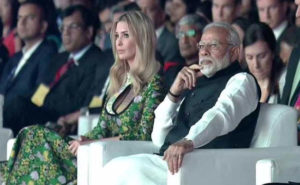 NEW DELHI: US President Donald Trump's daughter and adviser Ivanka not only lauded India's success story but also commended Prime Minister Narendra Modi's personal journey from a humble 'chaiwalla' to the highest echelons of power.
"What you are achieving here is truly extraordinary. From your childhood selling tea to your election as India's Prime Minister, you've proved that transformational change is possible," Ivanka told PM Modi from the lectern during the inaugural session of the Global Entrepreneurship Summit (GES) on Tuesday.
In her keynote address at the eighth edition of the GES, Ivanka further congratulated the Prime Minister for believing that progress of humanity cannot happen without women empowerment.
"Here in India, I want to applaud Prime Minister Narendra Modi for his firm belief that the progress of humanity is incomplete without the empowerment of women," she said.
In keeping with the theme of the summit "Women First, Prosperity for All', PM Modi asserted that empowering women was at the center of his government's development agenda.
"The theme, 'women first, prosperity for all' makes this edition of GSE stand out. In Indian mythology, woman is an incarnation of Shakti – the Goddess of power, we believe women empowerment is vital to our development," he said.
Ivanka, a fashion designer and entrepreneur, is leading the US delegation at the three-day summit, where for the very first time women make up the majority of the 1,500 entrepreneurs selected to attend.
During her speech, Ivanka stressed that women entrepreneurs should have access to capital, access to networks and mentors, and access to equitable laws. She observed that despite the soaring rate of female entrepreneurs, women still face steep obstacles to starting, owning, and growing their businesses.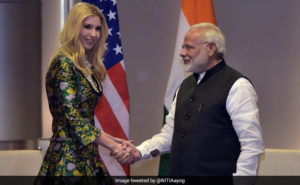 "Fuelling the growth of women-led businesses isn't simply good for our society – it's good for our economy. One study estimates that closing the gender entrepreneurship gap world- wide could grow our global GDP by as much as 2 per cent," she said.
Prime Minister Narendra Modi elaborated how Indian women were leading in different walks of life. He also cited the Indian Constitution, which guarantees one-third representation to women in local government.
Ivanka reaffirmed her father's stance that India "has a true friend in the White House"