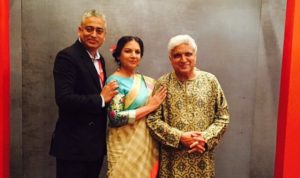 While defending director Sanjay Leela Bhansali's controversial historical epic Padmavati on Monday, lyricist and writer Javed Akhtar made incendiary remarks against the Rajputs, who have been protesting the film's release over its depiction of Queen Padmavati.
Speaking to Aaj Tak, Akhtar said, "The Rajputs and the Rajwadas never fought against the British and now they are taking to the streets against a film and a filmmaker. All these 'ranas' 'rajas' and 'maharajas' of Rajasthan were serving in the courts of the British for 200 years. Where did their Rajput honour and valour go that time? They have become what they are since they had accepted to serve the British."
Akhtar's statements were condemned by the Karni Sena, the same outfit that organised an attack on Bhansali earlier this year, and has been inciting violence in the weeks leading up to the film's December 1 release (which has now been deferred).
Mahipal Singh Makrana, state president, Shri Rajput Karni Sena, said, "He (Akhtar) has lost our respect. From now on he is banned in Rajasthan and if he dares we will thrash him on the streets." He was addressing reporters while burning Akhtar in effigy."Rajputs and Rajwadas have sacrificed their lives and he is mocking our history and saying we were serving the British," he said.
"He does not deserve 'Padharo Mhare Des' treatment anymore. He speaks a lot in literature festivals and next time we are not going to allow him to even come to Jaipur and speak," he said.
Javed Akhtar and actor Shabana Azmi had called for an industry-wide boycott.
Akhtar said to journalist Rajdeep Sardesai, "the people who say they will eradicate terrorism, can't ensure that a film is released."
"For discussion's sake, even if one was to accept that somebody's feelings have been hurt, that she was indeed a historical figure, and so on, what are we doing about it? Are you going to cut somebody's nose or chop off somebody's head? Is that how a civilised country will work?" he asked