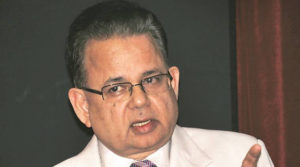 India's Justice Dalveer Bhandari, 70, was on Monday re-elected to the International Court of Justice for a nine-year term, after Britain withdrew its candidate Christopher Greenwood from the race. Bhandari obtained an absolute majority, or 183 of the 193 votes in the United Nations General Assembly and all 15 votes in the Security Council in simultaneous elections that were held at the UN's headquarters in New York.
Congratulating Bhandari on his re-election, External Affairs Minister Sushma Swaraj on Tuesday tweeted, "Vande Matram — India wins election to the International Court of Justice. JaiHind. #ICJ." She added, "Huge efforts by Team — MEA. Syed Akbaruddin our Permanent Representative in UN deserves a special mention."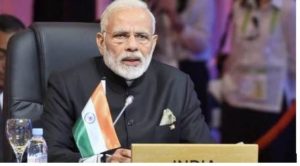 Prime Minister Narendra Modi congratulated Bhandari as well and called his re-election a proud moment for India. He lauded Swaraj and her team for its "untiring efforts" that led to India's re-election to the world court.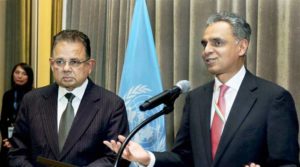 India's Permanent Representative to the United Nations Syed Akbaruddin speaks during a reception in the honour of Justice Dalveer Bhandari 
India's Permanent Representative to the UN, Syed Akbaruddin, was congratulated by other representatives on the floor of the General Assembly once the election was called. He later took to Twitter to say, "A vote that brings cheer to a billion. India's nominee Judge Bhandari re-elected to ICJ."
President Ram Nath Kovind called it a diplomatic milestone for the country. A host of politicians, cutting across parties, congratulated Bhandari on Tuesday as well. BJP president Amit Shah said the victory reflects the government's diplomatic success. "With every step and effort of the Modi Government, we see the reflection of a strong and decisive leadership," he tweeted.
Shivraj Singh Chouhan and Pema Khandu, Chief Ministers of Madhya Pradesh and Arunachal Pradesh respectively, congratulated Bhandari.
Senior Congress leader Shashi Tharoor tweeted, "Triumph for diplomacy: UK withdraws its candidate from the contest for a seat at the @CIJ_ICJ, citing friendly relations with India. This was the best way for the standoff to end. Congratulations to all involved in ensuring this result."
Britain's withdrawal came as a surprise, as the fight between Greenwood and Bhandari had been neck-and-neck. In the first 11 rounds of voting, Bhandari reportedly polled two-thirds of the members of the General Assembly.
Britain's Permanent Representative to the United Nations Matthew Rycroft, in a statement, said, "If the UK could not win in this run-off, then we are pleased that it is a close friend like India that has done so instead. We will continue to cooperate closely with India, here in the United Nations and globally."
Britain's withdrawal signals the first time in history that a UK judge will be absent in the UN court. It is also the first time a permanent member of the Security Council is losing to a non-permanent member for a seat at The Hague.
The ICJ, the principle judicial organ of the UN, was established in 1945 to settle legal disputes between countries in accordance with international law, as well as give advisory opinions to legal questions.
The court comprises 15 judges who are elected by the United Nations General Assembly and the Security Council for a tenure of nine years. A President and Vice-President are also elected by the court, but for three-year periods. In multiple rounds of voting, both organs of the UN vote separately but simultaneously to elect each judge.
Source:Indian Express