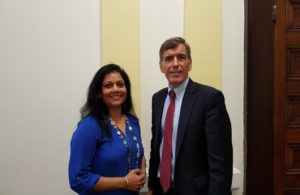 Dance artist, choreographer, and teacher Prajyoti Madhusudan visited Macclesfield MP David Rutley recently to explain to him how Indian dance can promote better health.
Mrs Madhusudan has developed and choreographed a new dance programme, Natya Aerobics, which blends dance genres and Yoga steps from across India. The aim of the programme is to encourage people, whatever their age or ability, to experience the intricacy, physicality and health benefits of dance.
At his meeting with Mrs Madhusudan, who has over 19 years of experience in art education projects, David heard more about the physical health benefits of dance, such as mobility, muscle-strength and promoting concentration and co-ordination. Mrs Madhusudan also spoke about dance's potential to boost psychological wellbeing, and her hopes that schools, colleges and leisure and fitness centres will take up the benefits of dance through her programme.
Following his meeting, David said, "It was good to meet Prajyoti and interesting to see how she has used her experience to help people of whatever age and ability become more active in different ways and learn from other cultures at the same time."