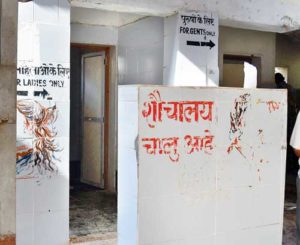 Brihanmumbai Municipal Corporation (BMC)is no stranger to scams, but the stench of this particular scandal could travel far and wide, perhaps right up to Prime Minister Narendra Modi's office.
Chief Minister Devendra Fadnavis promises to institute inquiry.
• BMC officials spent up to Rs 10 lakh on repairs and maintenance of toilet seats that should not have cost more than Rs 1.7 lakh each
• Rs 100 crore spent on repairing toilets that had already been repaired by MHADA
• City cheated of over Rs 200 crore and saddled with substandard toilets
An internal survey of BMC's execution of Swachh Bharat Mission, Modi's pet project, has revealed glaring irregularities which not only cost BMC over Rs 200 crore, but may have saddled the city with below-par toilets.
A 16-page report prepared by Deputy Chief Engineer, Slum Sanitation Programme, A Bhoir has revealed that at least in four wards — K (east) in Andheri, R (south) in Kandivli, L ward in Kurla and S ward in Bhandup — the corporation spent between Rs 3 lakh to Rs 10 lakh for construction and maintenance of toilet seats that should not have cost more than Rs 1.78 lakh a piece.
And that is not all. The report has also revealed that the BMC spent over Rs 100 crore 'repairing' toilets that had already been repaired by the Maharashtra Housing and Area Development Authority (MHADA).
Bhoir's report, which has been reviewed by Municipal Commissioner Ajoy Mehta, has now reached Chief Minister Devendra Fadnavis's office. In a text message to this newspaper on Tuesday evening, the chief minister promised to institute an inquiry into the scam.
The toilet scandal, as Bhoir's expose is being referred to in the corridors of power, sort of validates Mumbai's falling rank in the annual Swachh Survekshan, a Centre-led survey of the country's cleanest cities. While Mumbai ranked 10th in the 2016 survey, it has slipped to 29th position this year.
Bhoir's report, obtained by activist Anil Galgali on July 27 under the Right to Information Act, is scathing in its criticism of ward-level officials' inability to put work orders through the basic checks. It said it appeared as if engineers were working under "anaesthesia" when clearing files. "It appears there are no checks on the works carried out in the ward offices by assistant municipal commissioners and deputy municipal commissioners. The role of accounts officers, which is very dominant wherever funds from central agencies are involved, is completely slack and sleepy (sic)," the report said.
To put into perspective the loss –12,022 good quality seats could have been built and maintained with the Rs 214.23 crore the city was cheated of in this scam.
Godfrey Pimenta, activist and trustee of NGO Watchdog Foundation that looks into civic issues, called it a systematic crime. He said any BMC work gets reviewed at three levels – sub-engineers, assistant engineers and executive engineer. "How did they sanction the bills when the work didn't tally with the specifications? Citizens should demand dissolution of the corporation because it is good for nothing," he said.
Bhoir's report clearly indicated there was massive corruption involved and said that ward officials were tempted by the lure of easy money. "The obvious conclusion to draw is that the relaxed and away-from-theeyes-of-superior-cadre atmosphere in the wards tempts them to neglect the essential diligence," the report said.
When Mumbai Mirror contacted Deputy Municipal Commissioner Vijay Balamwar, who is in charge of the Slum Sanitation Programme, he said he had not received the report as the irregularities took place at the ward level.
Deputy Chief Engineer, Slum Sanitation Programme Suprabha Marathe, who has replaced Bhoir after the latter was deputed to the Slum Rehabilitation Authority, refused to comment on the report saying it was submitted before she took charge of the department.
Source:Mumbai Mirror