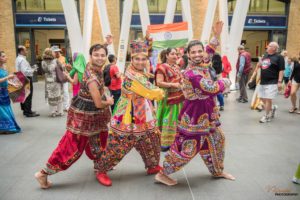 Never experienced ever before!
This was the first time that ' India ' blossomed in full glory at Kings cross western concourse on 29TH July when the Not for Profit Company, Inspiring Indian Women (IIW) organized a programme to celebrate the 70th Independence Day of India.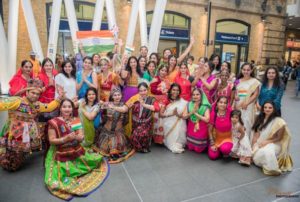 India descended at Kings Cross Station Western Concourse that Saturday when it was not Bollywood but folk dances from different states and classical performances which made a huge impact and difference. The Bollywood fed passers-by were pleasantly surprised to see this side of the 'Real India'. Such a proud moment to hear echoes of Bharat Mata ki jai and Jai ho in the heart of London! Electrifying atmosphere was witnessed at Kings cross.Sending their love for India from London, these amazing graceful dancers each representing different states kept on enthralling the spectators.  Wave of dances from many states of India like Kashmir, Haryana, Punjab, Uttarakhand, West Bengal, Odisha, Assam, Tamil Nadu, Telangana, Rajasthani, Maharashtra, Goa, Kerala and Gujarat mesmerised the spectators. The programme comprised of various form of dancesfrom Folk,Bharatanatyam, Odishi, Bengali, Kuchipudi, Dandia, kumaoni , Semi Classical , Patriotic, Bhangra , Rajasthani ( Rajasthani Puppet and folk kalbeliya, ghoomar&Matki dance), Assam, Thiruvathira from Kerala.

Mr.Jay Kumar Choreographer and Dance Entertainer was the host of the day and made the programme very entertaining. Mr Vineet Johri from V Kumar photography was responsible for filming the event. The event was put together by the tireless efforts put together by the Directors Rashmi Mishra and Arti Basciano Pattani,
From Kashmir 14 year old Jia sood performed Bhumroo, Haryana was represented byShilpa Choudhary, Minalsharma shah, Nostalgic memories engulfed when Anashmitasaha danced to the all time favourite DhitanDhitan bole., Uttarakhand was represented by Rashmi sharma, Purnima Bang malani, Rupalishelankar , AlkanandaMahapatrafrom Odisha displayed the elegant Odishi dance, Tribute to Assam was paid byAnashmitaSaha, Patriotic Song -Ye Duniya byMeghaamalikal, and Mayuri Dorle gave goose bumps to the India crazy crowd , the state of Tamil Nadu was represented by Saritha Choudhary who performed the Bharatnatyam sending tears to Arti Pattani with her graceful expressions for her motherland, Eleven year old Ankita somisetty was awesome with Kuchipudi dance from Telangana state Thiruvathira from Kerala was beautifully performed  Arathi Mahesh ,Soumya J  Krish, Christina Shiju George, Swathi Pathare, Rashmi Rane and Arushi Mehta.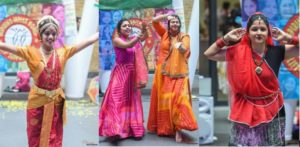 Goa was represented by the vivacious Gayatri Shenoy , the crowd waved and clapped during Lavani dance performed by Rashmi Narvekar , SampadaMarlegoankar, With the ever so full of energy and shakes came Shine Krishna performing matki and puppet dance from Rajasthan , With Bhangra fromPunjabbShilpachoudhary ,Minalsharma shah, Alpna Gupta, Bhavisha Patel rocked the venue. The GarviGujarat was represented by difficult original Dandiya Dance authentically performed by Puja Trivedi, Anand shah, Milind katudia, kavita Gupta, Gunjan Khanna and Mohit Jain. The crowd drooled and swayed to the finale song, Kehtehainhumkopyar se India wale. There was no stopping by the crowd when Mr Jay Kumar initiated his fun interactive workshop on Jai ho and panipani.
It was First time 'India' echoed at Central London. It was a celebration of different kind and beginning of a month-long celebration of 70th Independence Day of India.
Freedom in the Mind, Faith in the words and Pride in our Souls.Let's salute the Nation on Independence Day!