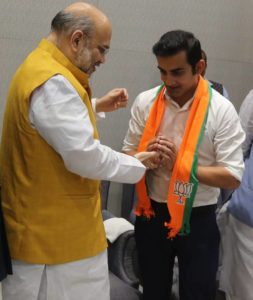 Former India cricketer Gautam Gambhir joined Bharatiya Janata Party (BJP) in New Delhi on Friday in the presence of Union ministers Arun Jaitley and Ravi Shankar Prasad.
Addressing a press conference, Gambhir said that he was inspired by Prime Minister Narendra Modi's vision to join the BJP. "I have done everything in cricket and now this is a very good platform to do something for the country," he said. 
He  met party chief Amit Shah.Arun Jaitley refused to confirm whether the cricketer would be contesting the upcoming elections.