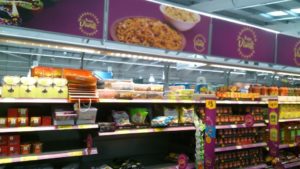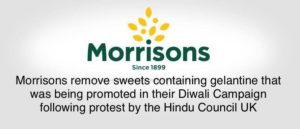 From: on behalf of David Potts – CEO
Sent: 18 October 2018 15:23:53
Subject: WM Morrisons Supermarkets PLC – 17027101 – Diwali Promotional Complaint
Thanks for getting in touch and bringing this issue to our attention.
We were sorry to learn that the sweets had been put in the wrong place on the Diwali fixture. To ensure that this was immediately corrected once we became aware of the problem, communications were sent out to all stores within the business to raise this issue and ask for the sweets to be moved away from the Diwali fixture and all ingredients to be checked on the current plans.
At Morrisons we do our best to cater for all religions, beliefs, cultures and traditions and welcome on board feedback which helps us to improve our services. We apologise for any offence or confusion the incorrect placement of the sweets has caused, and can assure you that this was not intended.
We have since resolved this issue at Store level and have also fed this back to all relevant departments to make them aware of this issue so that it doesn't happen again. Morrisons remains an open minded business and will be happy to work with other organisations and take on board suggestions and feedback regarding future events of this nature to ensure improvements are made.
I hope this information is helpful and once again, we apologise for any offence caused.
Kind regards,
Alanah Watson