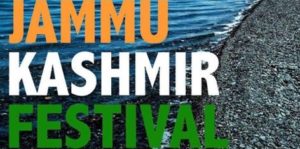 In it's third year now, Jammu Kashmir Festival is proud to present Mr Babar Afzal, Founder, Pashmina Goat Project, Pashmina for Peace and Curator, Global Luxury Pashmina Dialogue at an insightful discussion on the preservation of "Pashmina" highlighting the issues linked to climate change and injustice in the pashmina eco-system across Himalayas and has been travelling and living with Pashmina Goat Shepherds to understand the challenges faced by these communities.
Come and be a part of the Pashmina Dialogue and become a "Friend of Pashmina Goat" at this unique event showcasing finest authentic Pashmina Shawls and images of Babar's paintings inspired by his Pashmina journey. There will also be a film screening during the programme that will highlight his work with the goat herd community in Ladakh and Kashmir.
JAMMU & KASHMIR FESTIVAL is the first ever attempt to showcase the rich cultural heritage of the state and its pluralistic, varied cultural diversity to the British people.
Jammu & Kashmir, the northern most state of India, often referred to as "Heaven on Earth" has been a haven of tourism, adventure sports with a huge potential for growth and development. It is perhaps one of the most under-represented states of India in the UK. The variety of folk arts, traditional handicrafts and paintings, music, dance, theatre and oral story telling traditions of the region are fast moving towards extinction. Situated in the lap of the majestic Himalayas, Jammu & Kashmir is the crowning glory of India with a mysticism and beauty that remains unmatched, the world over.
About Babar: His journey is a one which is intertwine of several different threads. Of the community that has protected the Pashmina Goat from Centuries. Of a textile so pure that it rests atop everything the world calls luxury. Of a place that is being hit by the severe impact of Climate Change. Of a state that is known only for terrorism. It's about a man who quit his corporate career and took upon himself to guard the roots of the eco-system and gift the perfection that is Pashmina, to the world and became a shepherd. And in the process give back as much to the community that has selflessly given us the finest fabric known to man.
Babar is a Pashmina Artist, Pashmina Activist and a "Pashmina Goat Shepherd". He is the founder of the Global Pashmina Goat Project www.pashminagoat.org featured regularly in state, national and international media, he has been referred many a time as "the most credible voice on Pashmina in the world". Babar is a proud recipient of the Shri. Rabindranath Tagore Award, Dr. B R Ambedkar Award, Rajiv Gandhi Excellence Award, The Karmaveer Chakra and Bharat Gaurav Awards.
The event will be held on Monday, 22 October 2018 from 18:00-20:00 at The Grimmond Room SW1A 2JR London, United Kingdom