The Hindu Council UK recently took up the issue about sweets (containing Beef Gelatine) which are being promoted as part of Morrison Superstore's 'Diwali Campaign'
Please see letter below issued by Dipen Rajyaguru-Hindu Council UK Director responsible for Equality & Human Rights: 
Dear Customer service,
I am writing to you to complain about your product placement of Beef gelatine (Halal) sweets that is being featured in the Diwali section of your stores (I visited the Colindale branch today), please see pictures attached. As you must be aware (as this is not the first time!) of how deeply offensive not to mention how disappointing it is to see the lack of religious sensitivity and knowledge that Morrison's currently display. Hindu's do not eat Beef (or derivatives) halal or otherwise (Halal being the Islamic method of killing animals).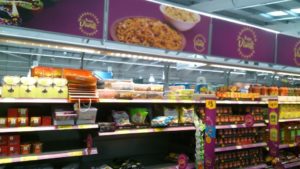 We would appreciate if you could immediately remove the offensive sweets (and perhaps replace with vegetarian varieties). I would also like you to consider taking up the Diversity training offered by the Hindu Council UK.
I look forward to your swift response and actions.
Kind regards,
Dipen Rajyaguru
Director – Equality & Human Rights
Hindu Council UK (HCUK)