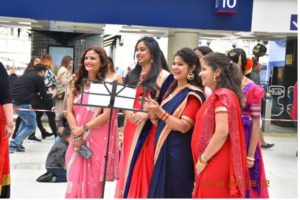 When 'India' descends at Waterloo Station and East meets West in London's busiest station Waterloo – It is Inspiring Indian Women's INDIAN PANORAMA. According to few participants there are times when we feel like screaming, India, my love! Hence the best place to do it is the most important station, in London.   This was the first-time glimpses from all the parts of India spread the breeze of cultural unity all across and refreshed the commuters to stop and sense the joy and vibrant colours of India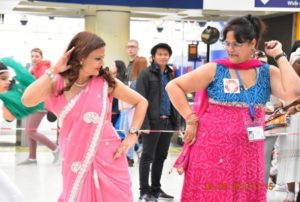 It also gave sense of pride and belonging to this nation, United Kingdom where each community is valued and respected.
The soul of the event was the most popular Bollywood choreographer Jay Kumar and his Jai Ho team.  Special efforts were made by Pooja Nikhil Patel founder EVENTS 2 EMPOWER Barking to bring in Poonam, Jyoti, Soumia, Neha, Sushma and Sangeetha to sing and dance.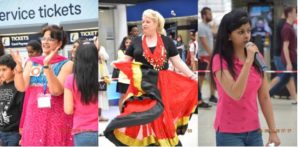 Little Tanvi Vijay performed on Maiya Yashoda, Sanjana and Sai Pranitha performed solo dance each, Kalp and Aarna made the audience sway to a very popular Rajasthan number, Malaika Jha and Samaika Jha ended the event playing the national anthem on Clarinet.
Waterloo station echoed with 'Made in India' by little Tanisha Hajra from Croydon.
The programme saw a Kaleidoscope of performances from Anvi (Bharatanatyam), Alkananda Mohapatra (Odishi), Priya Kushwaha (Kathak), Monika Agrawal (Nainowali ne- semi classical) dance. Ankita Somerset (Kuchipudi)

Among the solo performers were the upcoming stars the effervescent Nisha George with her new release song 'CHOREY', Melodious Shweta Dhall singing Aye Vatan and Deepak Tripathi the popular Bhojpuri singer from India who became the first person to have sung a Bhojpuri number from a public space in London.  Another group performance was from Bihari Community UK, led by Rajni Mahesh Patel and others on Sadhana Sinha's popular number.  Lastly one of the best Garba team Bollyfusion Puja Trivedi, Shah Anand, Kavita Gupta and Milind Katudia made the audience sway to a Gujarati number. The entire programme which was supposed to end in one hour, continued for two hours. Passers-by wanted more and more.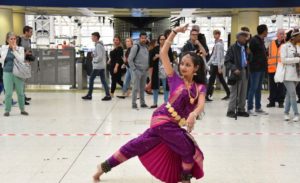 The entire show was compered by Sneha Jain.
Several volunteers assisted including Anju Wadhwa Narang, Amshu Sinha, Meenakshi Kumar and Tarla Mashru from Nu Sound radio, Rajesh Vishwakarma from Uttar Pradesh Community Association of United Kingdom (UPCA (यूपी-का) – UK) and Bihar Connectuk, founder Mr Udeshwar Kumar Singh.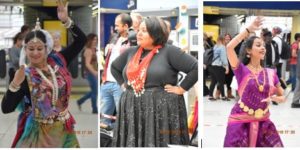 The event in all showcased the true spirit of India and strengthened the concept of Unity in Diversity. It was indeed am incredible to feel Indian National Anthem echoing at Waterloo!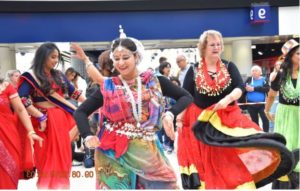 Video courtesy – 'Amit Gami Creatives ', Photography Courtesy – Bhumika Dalvi   from 'Life Documented for charity '