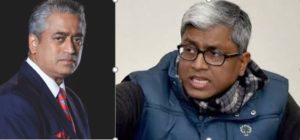 Ghaziabad, July 7: Television journalist Rajdeep Sardesai was a poster boy of Indian journalism. For two decades Indian Janata was revering him as the 'God of news' and he too rode on that wave of trust from the innocent people of India which can be easily fooled for its reliance on mainstream media to form its political opinion.
Yesterday Sardesai, the so-called legend of Indian journalism, who carries a legacy of controversies of personal rivalries, political lineage and biases and using his holy profession for political rivalry and revenge, has surrendered before the Ghaziabad court for creating a fake sting operation and airing it assuming no one could even touch them. His comrade journalist and later turned AAP leader Ashutosh Bhatnagar has also surrendered before the court in the same conspicious crime. The now out-on-bail journalists have lost their credibility and moral stand which is the keystone of the sacred profession of journalism.
Disgrace for the sacred profession of journalism
Sardesai has 28 years of journalistic experience in print and television. He was the founder editor of the IBN 18 network which included CNN IBN, IBN 7 and IBN Lokmat. Prior to that, he was Managing Editor of both NDTV 24X7 and NDTV India and was responsible for overseeing the new policy for both the channels. He has also worked with The Times of India for 6 years and was city editor of its Mumbai edition at the age of 26.
The person with such an illustrious career as a reputed journalist surrendered before the Ghaziabad court in a case of doing fake sting operation of CMO in 2006. And the Supreme Court had ordered for the case against them. Another person who has surrendered is Ashutosh, who has a complex identity crisis and identified as a journalist as well as a political leader of the Aam Adami Party.
Both are famous for their preaching morality to the World and on every possible subject.
Rajdeep Sardesai who always preaches scribes to save integrity has lost credibility and reliability. Sardesai and Ashutosh with their other comrades at the IBN group aired a 'fake sting operation' in 2006 on news channels IBN7 and CNN-IBN.
Advocate Prashant Patel Umrao yesterday announced the news through his twitter handle @ippatel
Here is the detailed case history
In the sting operation, one Ajai Agarwal, who was working as an orthopaedic surgeon at District Hospital in Gautam Budh Nagar, was announced guilty of amputating limbs of healthy people so that they can beg and earn more. He was branded a 'Shaitan Doctor' (Devil Doctor) by the news channels that aired the sting operation. Agarwal has filed the complaint for defamation under Section 500 of the IPC. If found guilty, Sardesai and Ashutosh with others, would be punished with simple imprisonment for a term which may extend to two years, or with fine, or with both.
Dr Ajai Agarwal, a registered medical practitioner, filed a complaint against Sardesai-Ashutosh duo alleging that between 29th July 2006 to 3rd August 2006 a manipulated video clip was shown by IBN-7 TV Channel suggesting a sting operation revealing involvement of the complainant in amputating persons to make them beggars. According to the complainant, the video clip was doctored, contained false allegations and it lowered his reputation in the society.
Read the case details here
Looking for sensational stories
The fabricated CD was prepared by one Jamshed Khan who added visual flavours of the fake sting operation and gave it to IBN7. Dr Agarwal refers Jamshed Khan as a blackmailer and asserts that the channels IBN7 and CNN-IBN were newly launched and were looking for sensational stories.
Dr Agarwal alleged that consequent to the telecast, various inquiries were set up at various levels. The Ethics Committee, set up by the U.P. Medical Council, which inquired into the matter, reported that there was no material to substantiate the allegations of any unethical conduct on the part of the complainant and, subsequently, the Medical Council of India also, on the basis of reports obtained by it, came to the same conclusion.
Even the High Court entertained a petition, bearing Writ Petition No. 74150 of 2005, on allegations made in the TV programme, in which notices were issued to Dr Agarwal who responded to all that crap and later being satisfied with regards to the falsity of the allegations made against him, the notices were discharged and the writ petition was disposed.
Dr Agarwal says that Rajdeep Sardesai (currently with India Today group), Ashutosh (currently a politician with Aam Aadmi Party) and Raghav Bahl (currently running The Quint) have destroyed his life and alleged of ruining his life and reputation by airing a 'fake sting operation' in 2006. Agarwal who is fighting the battle to salvage his life and reputation since 12 years claims that even he was announced 'non-guilty', the perpetrators of the scandalous crime have never contacted or apologized to him.
Source:NEWS BHARTI