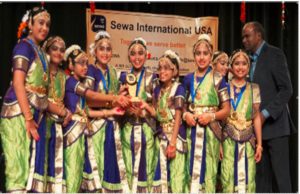 Speaking at the just concluded National Annual Conference of Sewa International, Dr. Sree Sreenath said that Sewa has generated $4.3 million, and disbursed $1.86 million in 2017. Most of the surplus are restricted funding for ongoing projects for future years, and endowment.
Sewa International spent the funds on a variety of outreach programs and projects to provide support to those in dire need, rescue, and relief operations following Hurricane Harvey, and on local community outreach in cities like Houston, Atlanta, and Cleveland. "This was an eventful year, a demanding year, even a historic year as we rose to the challenge of responding to multiple crises. Our Houston team rolled up their sleeves, went to work, rescued people, gave shelter, and doled out food and supplies as Hurricane Harvey brought Houston to its knees. But, all our other Chapters contributed in multiple ways: handling the 24/7 hotline, managing public relations, physically delivering crucial cleaning supplies and water to Houston, and, fundraising," he said. "We don't want such disasters to strike again, but we showed the world that while our footprint is small our work is high quality, and our spirit universal, and they caught the attention of the world," he told the more than 80 leaders and volunteers from 33 chapters across the United States who gathered April 27-29 for the annual national conference, hosted by the North Jersey Chapter, with support from the Central Jersey Chapter, in Parsippany, New Jersey.
Dr. Sreenath said that Sewa volunteers had logged nearly 140,000 hours working on rescue and relief operations, supporting education for children, conducting health workshops, and offering emergency support services to needy families in cities across the United States. The chapters across the country organized more than 180 events, from major events like celebrating Holi in Atlanta to well-attended fund-raising events in Houston, Boston, Chicago, and the San Francisco Bay Area. "Our 1,400 volunteers put in hard work in Houston in the aftermath of Harvey. We deployed SUVs, trucks, Humvees, and a boat to rescue the stranded, marooned, and the desperate. We also reached out to brethren in Puerto Rico and the Caribbean to serve them as Hurricanes Maria and Irma devastated those areas," he told the attendees to the conference. Sewa International raised over a million dollars for Hurricane Harvey relief and rehabilitation work, with nearly 40 percent of the funds received through a grant from the Greater Houston Community Foundation. "We hired 22 case managers on disaster case management and served more than 1,500 beneficiaries in a short span of four months – two-anda-half times the number that we were obligated to," Dr. Sreenath said.
"A major accomplishment was the completion of a 2023 Strategic Plan. With this, Sewa International  is set for growth and reach unparalleled heights as a Hindu faith-based charitable organization," he informed the attendees.
Leaders from various chapters shared information about the work they did during the year, their insights on raising funds, training volunteers, and acknowledging the generosity of donors. Gitesh Desai, Houston Chapter President, gave a detailed account of how he and his team worked as Hurricane Harvey hit Houston. A panel discussion of work-life balance for Sewa volunteers drew an enthusiastic crowd.
As is the culture of the organization, the North Jersey Chapter volunteers opened their homes for conference attendees, served home-cooked food, and organized airport pickup and drop-offs by volunteers. Twentyseven volunteers accommodated the 40 plus out-of-town delegates in their homes. "It is this concern for fellow volunteers, for keeping costs low, that has enabled Sewa to keep administrative costs to just about three percent of the funds raised, and to earn 'Toprated' ranking from the Great Nonprofits organization, and 'Platinum Rating' from Guidestar," said Venkat Santhanraman, Vice President, Finance.
On the eve of the conference, at the event to attract new volunteers to join the North Jersey Chapter, nearly 140 people attended. Assisting the North Jersey Chapter volunteers were the team members of the Central Jersey Chapter.