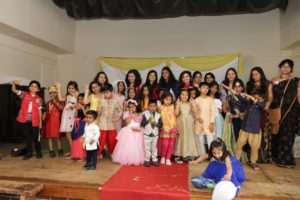 IIW (Inspiring Indian Women) organised a Creativity Carnival for kids, with the sole purpose to:
To raise awareness regarding food allergy.
To show to the world, how Indian community here has integrated with British society and adapted British values and Ethos
To create a platform to promote talented women who run classes from home.
To facilitate the  https://www.dkms.org.uk/ento try and save Kaiya by connecting to a big crowd of Indians at one place.
The event to celebrate three Princesses- M (Meghan), N (Nainika) and K (Kaiya) at Victoria Hall Harrow on the 19th May 2018. It was attended by Mr Bob Blackman MP Harrow who was the Chief Guest and Deputy Mayor, Councillor Kareema Marikar as the Guest of Honour. Other Special guests were Satya Minhaas President Metropolitan Police Hindu Association and Lakshmi Kaul.
The programme started with a rendition of Ganesh Mantra by eight-year-old Smriti Venkatesh.

It has been a year since Princess N, Nainika Tikoo became an angel with stars to guide us. As someone said, "Healing is not about moving on or "getting over it," it's about learning to make peace with our pain and finding purpose in our lives again."
To reaffirm and reassert this purpose of spreading the message and creating awareness about allergy amongst the children as well as spend the day with children, dedicated an hour of the programme talking about allergy awareness. Children who participated in this section were Kaavya Jain, Dhra Turshani, Anushree Kale, Ishwar Sharma, Tanisha Rupani, Dishita Bhatt, Tvisha, Sharanya sonthalia, Ananya Ravishankar, Saranya Patil, Neil Naik, Aeshaani Gupta, Arya-Viraat Talasila, Swarnima Garg, Srivathsan Ramadurai, Sumant Rathi.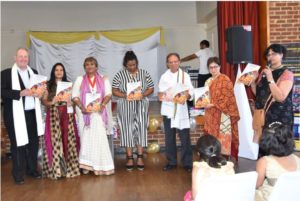 Nainika Tikoo Memorial Trust gave cash prizes and certificates to the participants. A skit was prepared by mums Priyanka Sharma, Vrinda Naik, Nehal Vajani, Hetal Vyas, Shalini Jain, Poonam Garg to share the myths surrounding allergy.
Books written by Vaishali Shah Founder of Shrivedant Foundation, a non – profit foundation in Kenya were released by Honourable MP Mr Bob Blackman.
Various skills enhancing workshops included Madhubani Paintings, Bharatanatyam by Reshma Venkatesan, Bollywood & Folk Dance and Carnatic music. Yoga demonstration was given by Little child Prodigy Ishwar Sharma.
The unique event saw around forty excited kids walking the ramp dressed as Prince and Princess. The fashion show was choreographed by Gayatri Shenoy. The entire co-ordination of the workshops was done by Pavithra Venkatesh.  It was indeed a treat to the eyes and contentment to the soul to watch the celebrations. A large size card was prepared by Shipra Gomes wishing the royal couple, congratulations and best wishes by all present.  Ahuja's Healthy Delights made the wedding cake and sponsored the cupcakes given to each participant.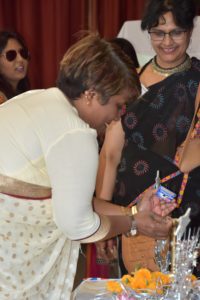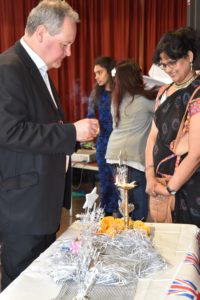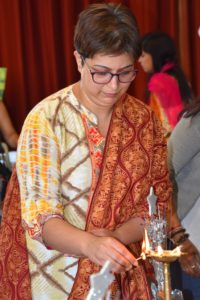 Nothing could be better than the immense satisfaction of celebrating two princess Nainika and Meghan and trying to save another princess Kaiya! Around 25 swabs were collected to send to DKMS to test for matching Asian donor. Around fifteen kids spoke about Allergy and myths associated and some 170 odd people including kids learnt about various aspects of allergy and how to help and be safe. No practice, no training,  except eagerness to do something worthwhile and to be cheered by doting parents, feeling proud of themselves being clicked away.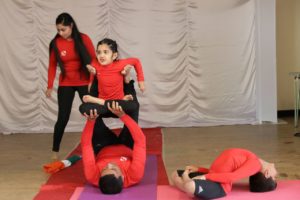 The programme was an honest effort to reach out.  More than twelve women got an opportunity to promote their passion so that they could convert it into profession.
The event was an attempt to connect the community to roots, branches as well as humanity.