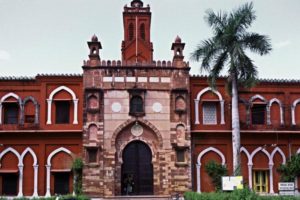 Uttar Pradesh Chief Minister Yogi Adityanath today said there is no question of celebrating Muhammad Ali Jinnah in India.His comments come in the backdrop of a controversy in the Aligarh Muslim University (AMU) over installing a portrait of Jinnah. On Wednesday, clashes were also reported in AMU wherein 41 people are said to have been injured.
Speaking to India Today TV  on board a flight to Hubali, Karnataka, Adityanath said, "Jinnah divided this country. How can we celebrate his achievements? I have asked for an inquiry [into the clash in AMU]. We will act as soon as the report is submitted."
He added that the inquiry report is expected by Friday.
News agency ANI has reported that 41 people, including 28 students and 13 cops, were injured on Wednesday during the clashes between students and police.
The protest on Wednesday by AMU students was in response to a clash between AMU students and members ofAkhil Bhartiya Vidyarthi Parishad (ABVP).
The AMU students were demanding arrest of members of Akhil Bhartiya Vidyarthi Parishad who had barged into the varsity demanding removal of Jinnah's portrait from the  the student union's office.
Earlier, BJP legislator Satish Gautam had written to vice-chancellor Tariq Mansoor objecting to Jinnah's portrait in the varsity.
Meanwhile, AMU spokesperson Shafey Kidwai recently defended the portrait stating that Jinnah was a founder of the university and was granted life membership of the students' union.