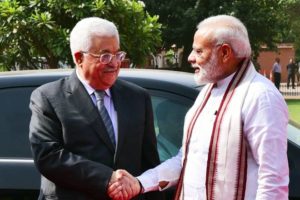 Prime Minister Narendra Modi arrived in Ramallah on Saturday on a historic visit to Palestine and was welcomed by Palestine's President Mahmoud Abbas.
Modi, is the first Indian prime minister to visit Ramallah
Describing India as a "very respected country in the international arena", the 82-year-old Palestinian president had said that India can have a possible role in creating a multilateral forum of negotiations between the Palestinians and Israelis to reach a final agreement.
According to Abbas, Modi's visit to the region reflects India's long-held position of supporting peace and stability in the region.
Addressing a joint press conference with Palestinian president Mahmoud Abbas on Saturday during his historic visit to Palestine, Prime minister Narendra Modi said that the Indian leadership has always stood for peace in Palestine.
"Palestine relies on India's role and great standing on the international stage to facilitate the peace process with Israel and the country's commitment to political action and negotiations as means of achieving the national goals of freedom and independence in accordance with the two-states relations along the lines of 1967."
The two countries signed agreements worth $50 million. The agreement includes setting up of a super speciality hospital worth $30 million in Beit Sahur and construction of a centre for empowering women worth $5 million.
Three agreements in the education sector worth $5 million and for procurement of equipment and machinery for the National Printing Press in Ramallah were also signed.
Earlier in the day, Modi laid a wreath at the mausoleum of iconic Palestinian leader Yasser Arafat. He was accompanied by his Palestinian counterpart Rami Hamdallah.