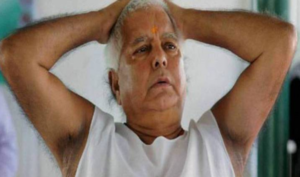 On Saturday, a special CBI court handed Lalu a three-and-a-half-year Rigorous imprisonment (RI) in a second fodder scam case, which pertains to fraudulent withdrawal of Rs 89 lakhs from Deoghar treasury between 1992 and 1994. In all, there were six cases registered by the CBI in the Rs 950 crore fodder scam in 1996 following an order from the Patna High Court in a PIL. Yadav has already been convicted in one case (RC-20 (A)/9) in 2013, pertaining to the withdrawal of Rs 37.7 crore from the Chaibasa treasury, which led to his disqualification from contesting elections.
Two other cases – RC-38 (A)/96 (alleged fraudulent withdrawal of Rs 3.31 crore from Dumka treasury) and RC 68 (A)/96 (alleged fraudulent withdrawal of Rs 33.61 crore from Chaibasa treasury) – are being heard on a day-to-day basis. Besides, there is another case – RC 47 (A)/96 (alleged fraudulent withdrawal of Rs 139.39 crore from Doranda treasury) – which is also being heard on a day-to-day basis. The trial in the first two cases is at an advanced stage and it is likely that judgment in both the cases may be pronounced in a month's time. The hearing in RC-47 is almost at the half-way mark. "It may take some time," said Yadav's counsel Prabhat Kumar.
All the three cases are being heard in different special CBI courts in Ranchi. One of the two cases, RC-38-A, is currently being heard in the court of special CBI Judge Shivpal Singh, who pronounced the judgment in the second fodder scam case. Further, another case pertaining to withdrawal from the treasury in Bhagalpur is also going on in a Patna court. A production warrant has already been issued by the Patna court. However, whether or not he is taken to Patna will depend on the requirement of the Ranchi court.
Politically, the answer to whether or not Yadav will be able to get immediate bail in this particular case seemed to have become crucial, with the RJD planning a major offensive against the NDA government in Bihar this month. Had he been awarded a sentence of three years or less, he would have been entitled to get bail from the lower court almost immediately. He has already spent one year in incarceration in this particular case and, under Supreme Court directive, anybody being sentenced to three years or less is entitled to bail and appeal in a High Court. Counsel Kumar said the processing of the bail petition in the High Court may take anywhere between two to three weeks. "We will read the order and then apply for bail," he said.
The court also issued summons seeking initiation of proceedings for prosecution of Additional Chief Secretary in Jharkhand, Sukhdev Singh, who was the Deputy Commissioner of Deoghar for about a year during the period of the alleged crime.
The court also issued summons to former DGP of Bihar, D P Ojha, who was at the time heading the Vigilance Department. The court also took cognisance of comments being made by political leaders – senior RJD leader Raghuvansh Singh, former Bihar Deputy CM and Yadav's son Tejashwi Yadav, senior leader Shivanand Tiwari and Congress leader Manish Tiwari – and issued them summons for contempt of court for allegedly casting aspersions on the judgment. All of them have been asked to respond to the summons by January 23.
Meanwhile, the four-day exercise in awarding the sentence also led to some interesting exchanges between the judge and the convicts.
On January 4, Yadav had complained about cold in jail, to which the judge quipped that he should learn to play some music and be an inspiration to others.