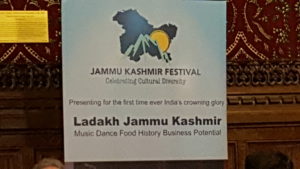 26 October 2017 was special day for me. I attended 'Kashmir Accession Day 70 years on' event at the House of Commons. In the opulent committee room were sat excited crowd many of them from J & K in sympathy and anticipation to hear the firebrand patriot Major Gaurav Arya of the 17th Kumaon Regiment as well MP Bob Blackman, I hastened to add is the only UK parliamentarian taking up the cause on behalf of the Kashmiri pundits and wider Indian diaspora in the UK for last 27 years.  The event was hosted by equally dedicated Lakshmi Kaul who hails from that region having organised the first J & K festival in the UK last year.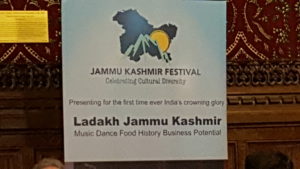 We were shown the signed declaration by the then Rajah of Kashmir Hariraj Singh of joining the Dominion of India on 26th October 1947. Nine weeks later,  a part of J & K was illegally taken over by Pakistani militants resulting into the most volatile fault line in the world surrounded by sensitive international borders. Lakshmi gave us update from last year's J & K Festival celebrated with vigour at Trafalgar Square and seconded the announcement of All Party Parliamentary group for Jammu & Kashmir by Mr Blackman. The main topic to be discussed was to change the perception spread headed by anti-India lobby of what is actually happening in J & K, explain that 'defending' is not 'fighting', genocide of Kashmiri pundits, bring about peace in the valley and bring the truth.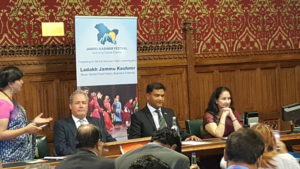 The Major was presented with Remembrance Day medal and he started his speech with the words Jai Hind to a roar of applause.
He explained how the LOC was established since 16th December 1971, sadly where 527 of our Army men died during the Kargil insurgency.  India has 760km long international border and contrary to Pak propaganda of some 760,000 Indian army personnel there are only 270,000. He said that the Shimla Agreement is bilateral however with no voice of civil society and only Army ruling Pak it is that establishment running an enterprise of some $20 billion which needs to be repelled. He gave account of the current situation naming quite a few Arabic sounding terrorist groups who are active setting up an IS style Caliphate there who probably hijacked the cause of real Kashmiris.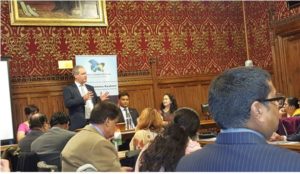 Which country will tolerate its own soldiers who are injured by stone pelting public further assaulted whilst being treated in the OPD?
Which region which has more autonomy thanks to article 370 would demand freedom? Freedom for what? You can't be free twice he said.
It is well known that Pak is hot bed of terrorism and those who follow events in the UK would associate origins of some of these miscreants to that country. Major also pointed out that the Sufi shrines of Kashmir have long gone, to be replaced by Wahhabi ideologies who basically want to destabilise Bharatmata and it's the fundamental right of the 'Moral Army' of India to defend the country, at the same time displaying utter professionalism by saving lives of thousands of local people from flooding.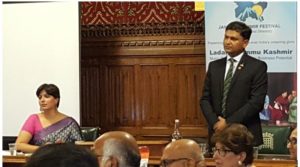 Media plays important role and the killing of Burhan Wani is clear signal to those engaging in radicalising and being disloyal to the country they live in not to mess with our ways of living and our freedom. This applies both to UK and India. When fake images of mass graves in Syria are banded about and there are people stupid enough to believe then it is time to answer back by effective counter attack and it's the duty of each Bhartiya whether in India or abroad to challenge it.
The Major also answered interesting questions from the audience e.g. why the stone pelting has stopped to what role political parties in the UK can play. Clearly the Labour party, fearful of losing their erstwhile vote bank would not dare come anywhere near an event like this and as such none of their representative attended. This is a lesson once again for loyal expat Indian to decide whether that party is worth voting for when all it does is to fester strife, division and rather than boldly taking the truthful stand just seeks votes to be in power.
All in all it was fantastic experience. J & K with its unrivalled mountains, rivers and lakes, diverse food and cultures, beautiful people, Bhand Pather folk group, stone and timber architectural heritage from the Guptas, Buddhist, Brahminical temples dating from 750AD, pashmina which is like soft gold  as well promise of a vibrant agricultural, tourist and business economies has no place for losers like LeT and their friends in Rawalpindi.
J & K is India's paradise on earth and so it shall remain.
Jai Hind
'DeshPremi'
(Disclaimer: This article represents the opinions of the Author, and the Author is responsible for ensuring the factual veracity of the content. Eshadoot will not be responsible for the accuracy, completeness, suitability, or validity of any information, contained herein.)