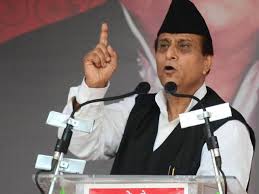 RAMPUR: Urdu Gate, Azam Khan's favourite gate constructed at Jauhar Ali University road by former Samajwadi Party government, is set to be demolished by the Yogi government after it was declared illegal and in violation of norms. 
During the SP regime, Rs 40 lakh was spent on the construction of the gate. An inquiry carried out by the district magistrate earlier this year found that the gate was blocking flow of heavy vehicles on the road that connects the district with Uttarakhand.
The UP public works department had earlier declared the gate 'an encroachment'. 
Officials said DM Shiv Sahay Awasthi sent the inquiry report to the state government, which further asked the local authorities to take appropriate action into the matter. Soon after BJP came to power in the state, Azam's arch rivals, including former MLA Nawab Kazim Ali Khan, BJP leader Akash Kumar Saxena and Congress' Faisal Khan Lala had registered three complaints against the gate with the state government.
Speaking to TOI, PWD superintendent engineer Sanjay Kumar Srivastava said, "The state government has ordered to take appropriate action into the matter. We are examining the site and soon necessary steps will be taken.
Public Works Department superintendent engineer Sanjay Kumar Srivastava as saying, "The state government has ordered to take appropriate action into the matter. We are examining the site and soon necessary steps will be taken."
"It is true that while constructing the gate, the officials had not sought an No Objection Certificate from PWD so the gate is considered an encroachment over the road due which public transport is badly affected."
Source:TOI